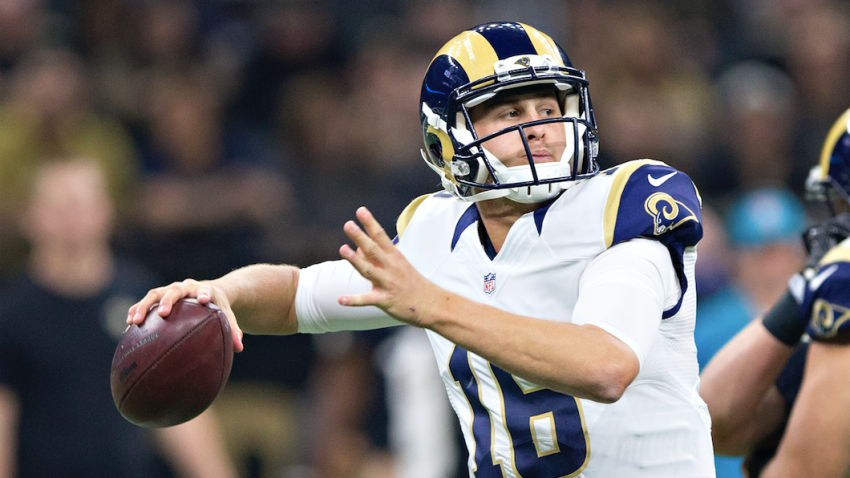 It was the good, the bad, and the ugly for the Rams on Sunday.
Jared Goff was good, throwing three touchdowns in just his second career NFL start.
The Rams defense was bad, allowing a season-high 49 points on seven touchdowns and 555 yards of total offense.
And finally, the loss was ugly as the New Orleans Saints took it to their former defensive coordinator Gregg Williams as they routed the Rams 49-21 on Sunday afternoon at the Superdome.
Goff got the Rams off to a good start as he threw his first career NFL touchdown pass to Tavon Austin on the first possession of the game to give L.A. a 7-0 lead.
Goff connected with Kenny Britt for a six-yard strike to start the second quarter, and the Rams had a 14-7 lead. Unfortunately, that would be L.A.'s last lead of the game.
New Orleans outscored the Rams 42-7 over the next three quarters, as they greeted their former defensive coordinator by scoring the most points against him than any other team has this season.
Williams was the Saints coordinator from 2009-2011, but was suspended from the NFL for a year in 2012 after the infamous "Bounty Scandal," in which league investigators discovered that Williams and other Saints coaches were paying players for targeting opponents and injuring them.
Williams was fired by the Saints after he was re-instated, and Sunday marked his first game back in the Big Easy since the bounty scandal unfolded.
Drew Brees carved up his former coordinator like a Thanksgiving turkey as the 16-year, all-pro quarterback threw for 310 yards and four touchdowns against the Rams highly rated defense.
Brees exposed holes in the defense's zone, allowing for multiple big plays down the field that ultimately broke the back of the elite group known as "The Mob Squad"
Brees now has 30 touchdowns on the season, the ninth time in his career he has reached the milestone, tied for an NFL record with Peyyon Manning and Brett Favre. Brees also threw for over 300 yards for the 103rd time in his career, the most all-time.
Saints' receiver Michael Thomas had eight catches for 97 yards and two touchdowns, and Mark Ingram rushed for a season-high 142 yards and a touchdown.
Despite the flashes of brilliance, and superb arm strength, Goff had his fair share of mistakes as well as the No. 1 overall pick in the NFL draft had a first half fumble and threw a second half interception as well.
Britt continued to build upon his best season of his career as he caught five catches for 52 yards and a score. Tight-end Lance Kendricks caught four balls for 51 yards and a touchdown.
Former high school quarterback and all-purpose player Willie Snead had four catches for 36 yards for the Saints, but he also threw for a touchdown when he connected with Tim Hightower on a 50-yard bomb down the field on a trick play in the fourth quarter.
The Rams fall to 4-7 on the season and will now have to win their remaining five games on the schedule to give Jeff Fisher his first winning season as head coach.
Players of the Game:
Drew Brees: 310 yards, 4 TDs
Jared Goff: 214 yards, 3 TDs, 1 INT
Mark Ingram: 142 yards and 1 TD
Three Takeaways:
1. You Always Remember Your First Time: Jared Goff dropped a dime into the hands of Tavon Austin for his first career NFL touchdown pass on L.A.'s first possession of the game.
.@JaredGoff16's 1st career TD pass?

Absolutely beautiful. #MobSquad https://t.co/kQ1CbaF18k — NFL (@NFL) November 27, 2016
2. Welcome Back, Williams: Former New Orleans Saints defensive coordinator Gregg Williams made his return to the Big Easy for the first time since he was suspended by the NFL for a bounty scandal, and his former team embarrassed their old friend as they scored 49 points, the most any team has ever scored on a Rams defense led by Williams.
The 49 points scored by Saints are the most points a Gregg Williams led defense in St. Louis or Los Angeles has given up. — Michael Detillier (@MikeDetillier) November 27, 2016
3. Fire Fisher? Los Angeles Rams head coach Jeff Fisher now seems destined for another losing season and after a strong performance from Goff, Rams fans took to social media to ask why he wasn't starting all season. Shortly thereafter, the hashtag #FireFisher was trending on Twitter.
Good day to be a #Rams fan. Goff looks good & Jeff Fisher is a step closer to being fired. — Carlo Cecchetto (@CarloCBS8) November 27, 2016
Up Next:
Rams (4-7): Things only get worse for L.A. from here as the team travels to New England to take on the Patriots.
Saints (5-6): New Orleans is still in the hunt in the NFC South as they will host the first place Detroit Lions at the Superdome next week.
Please refresh this page for more stats, updates, and player reactions…