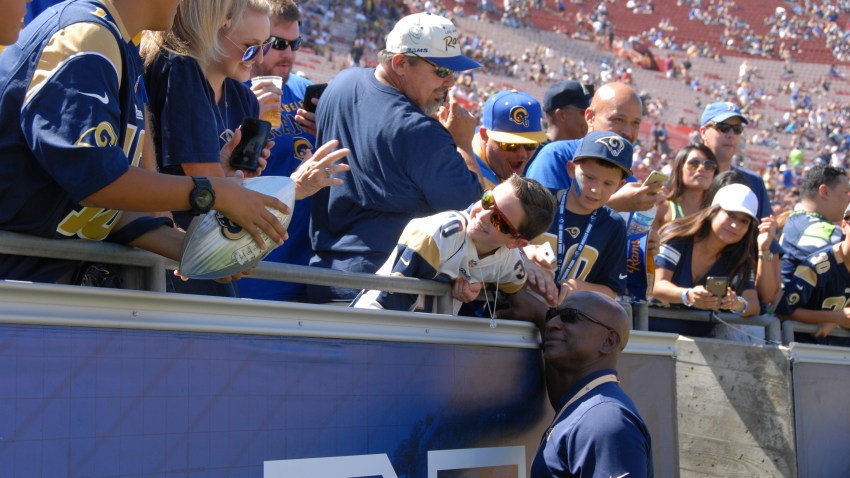 Well is there a welcome mat, or isn't there?
An escalating feud between Los Angeles Rams Hall of Fame running back Eric Dickerson and current head coach Jeff Fisher has seemingly reached a fever pitch.
It all started a few weeks ago when Dickerson began to criticize Fisher and the team for their up-and-down season, and their reluctance not start No. 1 overall pick Jared Goff at quarterback.
After the team's groundbreaking ceremony in Inglewood last week, Dickerson said he was told by a friend to expect a call from either Fisher or general manager Les Snead.
The call reportedly came from Fisher, and Dickerson was told he was no longer welcome on the Rams sideline. Dickerson remained mum on who the call came from, and after the Rams embarrassing loss to the New Orleans Saints, 49-21, at the Superdome on Sunday, he spoke publicly about the team's decision on his radio show with our very own Fred Roggin on AM 570 LA Sports.
"Someone with the Rams called me and told me I'm not wanted on sidelines at games, that what I've said makes the players uncomfortable," Dickerson told L.A. listeners without revealing who called him only saying that it was someone in "upper management."
.@EricDickerson says he is not welcome on sidelines at @RamsNFL games. Listen to his reaction: https://t.co/k3uQj3IdM7 pic.twitter.com/g4amOmMmUr — AM 570 LA Sports (@AM570LASports) November 28, 2016
A few hours later, the Rams Executive Vice President of Football Operations & Chief Operating Office, Kevin Demoff, took to Twitter to quell the notion that Dickerson was banned from the team.
All Rams alumni, and especially @EricDickerson, are always welcome at our games and practices. — Kevin Demoff (@kdemoff) November 28, 2016
Demoff reiterated that he did not know who reached out to Dickerson, but believed it was a "miscommunication," and that he personally reached out to Dickerson to tell him he was welcome at all games and practices.
Later in the evening, at his weekly press conference, Fisher finally weighed in on the Dickerson ban when asked by a reporter.
"I don't know where that's coming from," Fisher said. "I had a really good conversation with Eric last week. We welcome the alums. We welcome the tradition and the history."
Fisher was then pressed on the topic and asked if Dickerson was still welcome on the Rams sideline.
"He's always welcomed," continued Fisher. "I'd love to have him come in. I'd love to have him come to practice. I'd love to have him come in the meetings. Eddie George has been in my meetings more than Eric Dickerson has. I'd love to have him here."
That last comment, regarding George seemed odd, and a bit of a jab at Dickerson not attending practices and voicing his opinion from afar, but regardless, Fisher seemed to also quiet any rumors that Dickerson was not welcome and openly invited him to games and practices.
Ordinarily, the CFO, COO and Head Coach of an organization publicly stating that Dickerson is welcome would be enough to end the debate, but Dickerson continued to pour fuel on the fire as he went on Fox Sports Radio with host Jason Smith to explain what happened.
"This happened about 10 days ago," began Dickerson. "The conversation was between he [Jeff Fisher] and I. He called me and said 'Look, I just want to call you and tell you that we at the Rams aren't going to have you talking about the team and asking things from the team.'"
Dickerson explained that he had previously asked the team for sideline passes for some friends of his and that Fisher told him they would not grant his request.
"'The players feel uncomfortable with you on the sideline and as long as I'm head coach here, you can come to the games, but you're not welcome on our sideline,'" Dickerson said, quoting Fisher. "I will always be Eric Dickerson of the Los Angeles Rams and I have to say what I see."
Dickerson confirmed that Fisher told him Eddie George had come to team meetings and that he was welcome to those meetings and practices as well, but Dickerson put a final exclamation point on the call.
"I told him 'you don't have to worry about me ever coming to a game again,'" sad Dickerson. "I don't want anyone to feel uncomfortable, but I told him 'As long as you're head coach, you don't have to worry about me coming to a Rams game ever again.'"
Dickerson said that Fisher tried to walk back his comments and said that Dickerson was welcome at the games and as an alum, the team wanted him a part of their organization and their future.
"I'll watch them from a distance, and I'll always support my football team 100% but I will never be at another Ram game in the Coliseum again as long as he's head coach," Dickerson said emphatically. "I want to go to a football game as much as I want to tie a bloody steak around my neck and jump in the Pacific Ocean butt naked."
It sounds like bad blood is brewing between the greatest running back in Los Angeles Rams franchise history and their current head coach. Dickerson has been retweeting messages of support from hundreds of Rams fans throughout the day and it does not appear like this beef between one of the team's most popular former players and the man at the top will end any time soon.
"I want my team to win, I'm a frustrated fan just like the other thousands out there." Dickerson said. "If you're satisfied with 8-8 you're a loser. He had the nerve to call me and tell me what he did. He doesn't have the right. He hasn't had a winning season with the Rams ever, ever, ever. "
It's safe to say that things in Tinseltown just got worse for the 4-and-7 Rams.