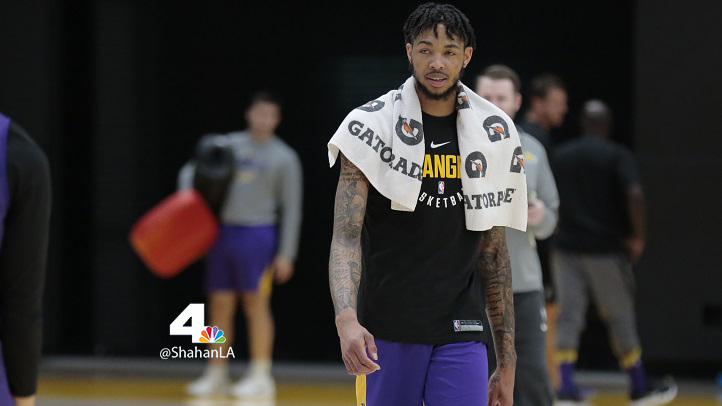 After suffering a groin strain in Miami on Mar. 1, Lakers forward Brandon Ingram has been sidelined for eight games, but the 20-year-old has been cleared to take part in non-contact work on the court.
"I feel really good, actually," Ingram said at Saturday's Lakers' practice in El Segundo. "[I] started getting back on the court for a few days, and [I'm] back smiling again, happy to be out here."
No set date has been circled for the return of the lanky forward, who often plays as a point guard when healthy, but Ingram explained the next steps in his return from injury.
"The next step for me is trying to get on the court and go against some of the guys, trying to ramp it up a little this week depending on how I feel," Ingram said.
The forward said that he hopes to be able to get in contact work in the upcoming week and sounded positive about how his body had been reacting to the on-court work he had been doing with regards to not being sore afterwards. Considering the Lakers travel on Sunday and play in Indiana on Monday, the next time the team gathers for practice will likely be in New Orleans ahead of Thursday's game in the Big Easy.
"I wouldn't be surprised if he plays on the road trip," Lakers coach Luke Walton said about Ingram. "He's feeling much better, he says, but we're going to keep being patient with him and make sure he goes through all the proper channels before we throw him back out there."

"Hopefully, I can get to practice in New Orleans and practice with the guys," Ingram said. "It's been a long time since I've practiced with them. So, hopefully I can get out there and do some contact drills."
While watching from the sidelines, though, the former Duke Blue Devil has gained greater appreciation for his teammates and the improvements they've made.
Asked what he's noticed while watching from the bench, Ingram responded, "How good Julius Randle is. I watch every night when he gets the basketball and some of the shots he makes and how strong he is going to the basket. Seeing that no one can really stop him. You know exactly what he's going to do, but no one can stop him."
Ingram also added to his answer, "How good Kyle Kuzma has been on defense lately—his individual defense."
Beyond gaining confidence in his teammates, Ingram also said his time on the sidelines had helped his own confidence levels.
"I think actually, sitting there and watching, I've actually gained confidence in seeing that I can make that play at the end of the game," Ingram said in reference to the Lakers losing by one point on a missed shot the night before.
Asked about what he would have done if he'd been on the court against Miami, Ingram responds confidently with a smile, "I would have shot the ball."
The young man affectionately called "Jugg" by his friends as a reference to his physical resemblance to Jughead Jones from the classic Archie comic books is notorious for being addicted to basketball.
"It has been boring," Ingram said when asked about life in street clothes, especially considering the forward was initially not even allowed to get on the court and shoot. "I don't do anything else but play basketball."
Ingram added, "I picked up on sleep a little bit. I went bowling. I shopped a little bit too much. That's really all I did. I got to be with my family a little bit more than usual, so I think that's a good side about it."
Did Ingram buy get anything good in his shopping excursions?
"I'm always going for clothes," Ingram said. "I'm a little fashion guy. I think I need to get back to basketball. I'm doing a little overspending a little bit."