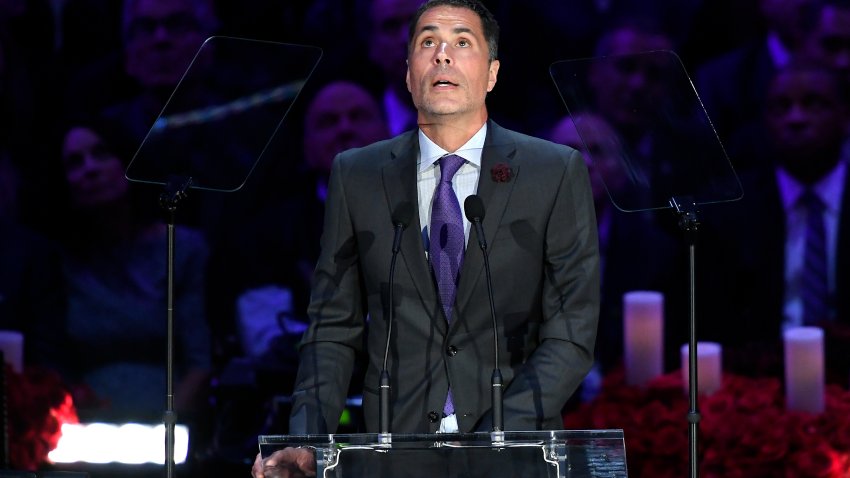 Los Angeles Lakers general manager Rob Pelinka is drawing inspiration from his friendship with Kobe Bryant as he navigates the coronavirus pandemic.
Pelinka was Bryant's longtime agent before he took over the Lakers' front office this season. The executive has been thinking of Bryant constantly since the former NBA star was killed in a January helicopter crash along with eight others including his daughter, Gianna, who was Pelinka's goddaughter.
With an uncertain future ahead for the Lakers and the NBA, Pelinka has been imagining what Bryant would say.
"If you were on a knight's journey with him and a huge fire-breathing dragon ended up in the pathway ahead, he could say, 'OK, you know, this is why this is good right now,'" Pelinka said on a conference call with local reporters Wednesday.
"'We're going to meet this challenge. Here's how we're going to get around it, and here's how we're going to defeat it.' That was just his nature, that obstacles or hard times would lead somehow to growth. And I think that that's the way I'm going to look at 2020, not just in terms of the loss of Kobe but just in general."
Pelinka also spoke about the previously reported decision of several top Lakers executives to take a voluntary pay deferral during the health crisis.
"I would be in support of anything that allows people to keep their jobs in really hard times," he said.
Copyright AP - Associated Press