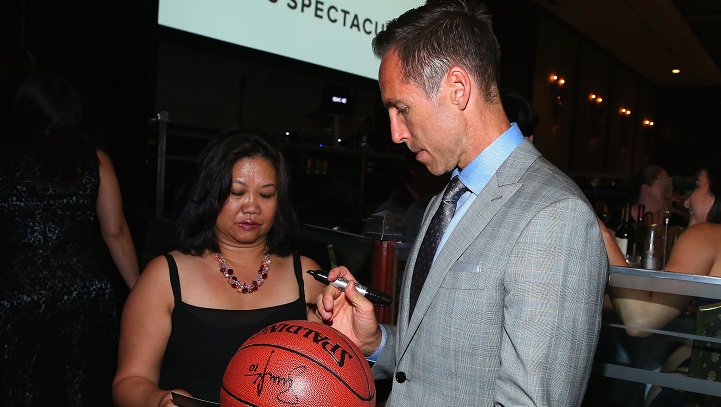 Two-time NBA MVP Steve Nash earned praise from Los Angeles Lakers' players and coaches Saturday on the news of his retirement.
"(He's) one of the best players and one of the best people I've ever been around," coach Byron Scott said. "I wish I had the opportunity to spend more time with him and coach him for a few years, but obviously that didn't happen. But as a person and as a basketball player, there's nobody better."
Scott added, "He was the modern day Bob Cousy."
Nash clearly announced his retirement via an article published on the Players' Tribune on Saturday morning: "I'm retiring."
In the article, Nash went on to identify several experiences that helped shape him and thank several of the people that helped drive him to his Hall-of-Fame caliber career. At one point in the article, Nash stated, "I will never play basketball again. I already miss the game deeply, but I'm also really excited to learn to do something else."
I'm retiring from basketball. Thanks for all the love through the years. http://t.co/CMqDBSYIrr pic.twitter.com/iNTG6eap4D — Steve Nash (@SteveNash) March 21, 2015
How great was Nash in his prime? Scott offered his experience as an opposing coach faced with the unenviable job of slowing down Nash.
"The one thing I always said about [Nash] when we played him is, 'Guys, we can't give him a steady diet of one thing. He's too good. He's going to pick it apart.' I had a team in New Orleans that was pretty good, and we changed up every quarter on our pick and roll coverage with Steve Nash just because of Steve Nash."
Scott added, "We didn't do that with anybody else in the league, but every quarter, we gave him a different look."
Fans in LA famously grew frustrated with Nash being unable to play regularly following a broken leg suffered in only his second game with the Lakers. Fans called talk shows and flooded the internet with criticism, and the Lakers' coach offered perspective on how fans of the team should still respect Nash's time with the Lakers.
"I think the fans also need to look at the fact that the guy did everything possible to get on the court," Scott said. "I don't think they take into consideration that he's hurt. He had some physical problems, but he did everything possible to get on the court, and I think they should really take that in consideration."
Scott added, "Take a look at everything he's done over his career and judge him by that, not by what ended up happening here [in LA]."
"From growing up in Vancouver, he's always been that guy that Canadians have always looked up to," Lakers' teammate and fellow Canadian Robert Sacre said on Saturday. "It's kind of sad to see it coming to the end, but I've been so honored and blessed to be able to play with him and just be a teammate."
"I've never seen anybody work harder," Sacre added. "People are always down on, 'well, he's always hurt,' but you don't understand how hard he works just to get five minutes on the court."
Nash's work ethic consistently came up during his career, and even amidst injuries, his coaches and teammates praised the aging point guard for working hard despite his body clearly not having enough left in the tank to be an NBA player.
Nash may be done as a player, but he still continues on as a mentor. For the Canadian national team, Nash plays an integral in recruiting and managing the team. For the Lakers, he has been working with rookie point guard Jordan Clarkson in one-on-one sessions to improve the 22-year-old's game.
"It's definitely hard to give it up, but he still wants to be involved," Clarkson said on Saturday. "You can tell when he comes in and works in the gym [with me].
The rookie added, "He still has love for the game."