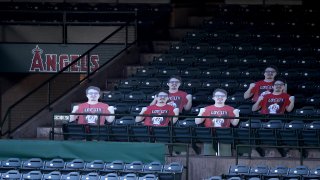 What to Know
The Angels take on the Seattle Mariners Tuesday at 6:40 p.m. in the first game of the season in Anaheim.
Both the Angels and Mariners enter the game with records of 1-3, looking to improve on their standings in the AL West.
MLB is contending with a large virus outbreak among staff and players for the Miami Marlins.
The Los Angeles Angels will finally play their first home game in a baseball season like no other.
The Angels take on the Seattle Mariners Tuesday at 6:40 p.m.
Home openers are usually a time of optimism -- a moment when anything seems possible with the dawn of a new season. This time, things are much different as the virus-shortened 60-game schedule enters its first full week of play.
The league's attention isn't on early season favorites and possible surprise contenders, but instead on the Miami Marlins' virus outbreak that, according to the nation's top infectious disease expert, could endanger the entire season.
More than a dozen Marlins players and staff members tested positive for COVID-19.
"This could put it in danger," said Dr. Anthony Fauci. "I don't believe they need to stop, but we just need to follow this and see what happens with other teams on a day-by-day basis."
Fauci made his comments on ABC's "Good Morning America."
"Major League Baseball -- the players, the owners, the managers -- have put a lot of effort into getting together and putting protocols that we feel would work," Fauci said. "It's very unfortunate what happened with the Miami (Marlins)."
The outbreak continued to disrupt Major League Baseball's schedule Tuesday, the sixth day of the pandemic-delayed season, with the Marlins' home game against Baltimore postponed. The game Monday between those teams was also called off, as was the Yankees' series opener Monday at Philadelphia, where New York would have been in the same clubhouse the Marlins used last weekend.
"Obviously, we don't want any player to get exposed. It's not a positive thing," Commissioner Rob Manfred said on the MLB Network. "But I don't see it as a nightmare. … We think we can keep people safe and continue to play."
MLB and the union held talks Monday after aspects of the protocols were widely ignored during the season's first four days, such as the prohibitions on high-fives and other physical celebrations. The NBA and NHL plan to resume their seasons in bubble environments, with basketball at Lake Buena Vista, Florida, and hockey at Edmonton, Alberta, and Toronto.
"The NBA and the NHL have an advantage: smaller numbers of players, shorter period of time," Manfred said. "I understand why they did what they did. I'm just not sure it was workable for us."
The NFL has opted not to create a bubble environment as training camps open for the coming season.
Here's what to know about the Angels' home opener.
Last Year
The Angels went 30-46 in division games in 2019. Los Angeles averaged 8.4 hits with 3.1 extra base hits per game and 220 total home runs last season. The Mariners went 27-49 in division games in 2019. Seattle averaged 8.1 hits with 3.2 extra base hits per game last year.
Records
The Seattle Mariners are 1-3, fourth in the AL West. The Los Angeles Angels are 1-3, fifth in the AL West.
Pitching Probables
Mariners: Justus Sheffield (0-0, 0.00 ERA, 0.00 WHIP, 0 strikeouts)
Angels: Patrick Sandoval (0-0, 0.00 ERA, 0.00 WHIP, 0 strikeouts)
Injuries
Angels: Dillon Peters: (oblique), Justin Anderson: (elbow), Andrelton Simmons: (left ankle), Anthony Rendon: (oblique).
Mariners: Brandon Brennan: (oblique), Gerson Bautista: (elbow), Austin Adams: (knee), Mitch Haniger: (back), Tom Murphy: (left foot).
Copyright AP - Associated Press