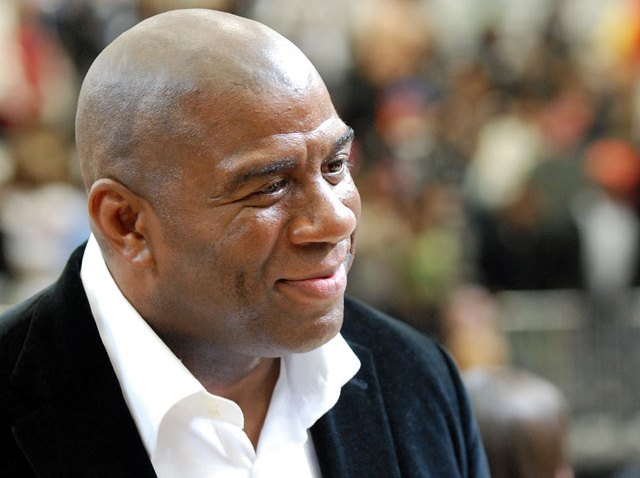 Magic Johnson will forever be a Laker, at least in the minds of Lakers fans. He will forever wear the "Forum blue and gold" in the hearts of Lakers fans.
But now he has cut all actual ties to the team that he is an icon for.
Magic Johnson sold his shares of the Lakers.
"After heavy deliberation and a weighing heart, I have decided to sell my share of the Lakers to Dr. Patrick Soon-Shiong…" Johnson said in a press release on the Lakers website.
"I am truly humbled to have been a Lakers player for 13 years and an owner for over 10 years. I thank Dr. Buss from the deepest part of my heart and soul for allowing me such an incredible opportunity. I will continue to work alongside Dr. Buss, Jeanie Buss and Mitch Kupchak in their efforts to continually build and maintain the best NBA franchise in the league.
"This was a bittersweet business decision made on behalf of my family and myself, and I want to assure all the wonderful and loyal Lakers fans that my decision will in no way affect my dedication and support for the Los Angeles Lakers. I am and will always be a Laker for life."
Johnson owned about 5 percent of the Lakers.
"The sale of Earvin's share of the team is a business decision which will not change our relationship," Lakers owner Jerry Buss said in the same release. "Our friendship goes well beyond business. Patrick is a long-time and passionate Lakers fan and we are delighted to have him as a partner."
Magic Johnson wants a larger role in team ownership, he wants to run a team like Michael Jordan does now in Charlotte. He talked about that before and hinted this may happen.
However, controlling ownership was never going to happen with the Lakers, where the Buss family has no plans to sell.
Magic's name came up on the periphery of the sales of the Golden State Warriors and Detroit Pistons. But you cannot own parts of two NBA franchises, so Magic had to get out of the Lakers before he could be serious elsewhere.
It makes sense why he did it, but still it feels unsettling and wrong. Magic Johnson is as much a Laker as anyone, and if you doubt that watch one night how many people get their picture taken with his statue out in front of Staples Center. He is a Laker icon. This has happened other places -- Larry Bird may run the Pacers but he is forever a Celtic. The same is true here.
As for the new Lakers owner, Dr. Soon-Shiong, he is a hardcore Laker fan and season seat holder for more than 25 years. He's also the richest man in Los Angeles, worth an estimated $7.1 billion. He is chairman of the Chan Soon-Shiong Family Foundation, chairman and CEO of All About Advanced Health and founder of the National Coalition for Health Integration. He is the executive director of the UCLA Wireless Health Institute and Professor of Microbiology, Immunology, Molecular Genetics and Bioengineering at UCLA.
In 1993, he performed the world's first encapsulated human islet transplant and the first pig to man islet cell transplant in diabetic patients.
"It is an honor for me to be part of the Lakers family and the nation's foremost basketball franchise," said Soon-Shiong. "The Lakers' leadership and spirit of community engendered by Dr. Jerry Buss and his family is an inspiration to us all. Our family looks forward to a future filled with the excitement this team brings to the city and the nation. Earvin Johnson is a shining example of excellence on and off the court, and it is a privilege to have acquired his ownership position."
Copyright FREEL - NBC Local Media