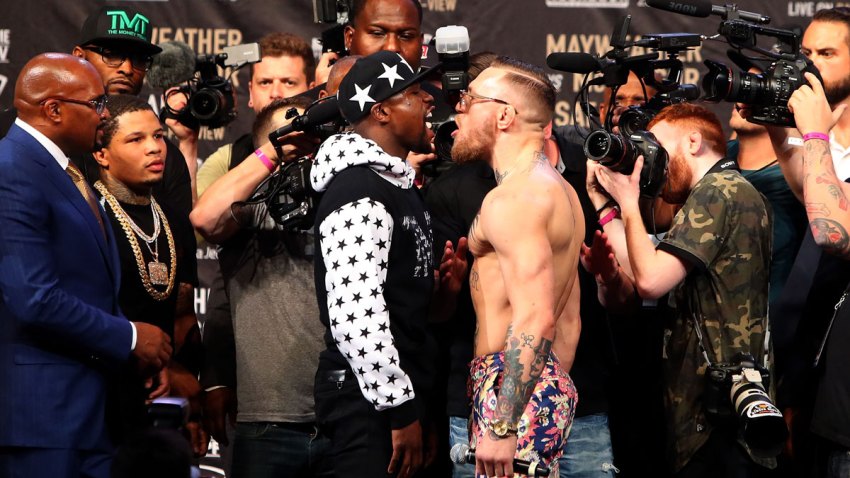 A big spectacle deserves a big screen, so movie theaters in Southern California and around the U.S. will show the Saturday night fight between Floyd Mayweather Jr. and Conor McGregor.
The bout between the undefeated boxer and the Irish UFC champion will cost $99.95 on high-definition pay-per-view TV. Tickets for the fight at Las Vegas' T-Mobile Arena will range from $500 to $10,000 — and there aren't many $500 seats.
Meanwhile, movie theater tickets for the fighting spectacle of the year are being sold at $40 per adult in advance. A complete list of participating theaters, including several in Southern California, can be found here.
Fathom Events and Mayweather Promotions announced the partnership. An adult ticket costs $40.
Mayweather is coming out of retirement for a boxing match against a UFC star who has never boxed professionally. Should McGregor somehow manage to knock out Mayweather Jr. in the early rounds Saturday night, the city's bookmakers would lose millions of dollars in the biggest single event loss in the history of sports betting.
McGregor fans have flooded sports books with $100 bills backing the mixed martial arts fighter, and even a late surge of money on Mayweather might not be enough to balance the books.
A fight that began with Mayweather an 11-1 favorite is now 5-1 or even less in some sports books. Even that hasn't stopped McGregor supporters from lining up at the betting windows to hand over even more cash.
They're backing a longshot, hoping that the payoff will be huge.
Copyright AP - Associated Press