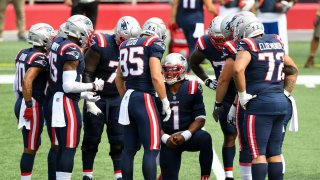 The New Orleans Saints and the New England Patriots have been ordered to pay major fines for violating the NFL's COVID-19 protocols, the official NFL website said Sunday.
The Patriots were fined $350,000 after quarterback Cam Newton's COVID-19 diagnosis led the league to push back a Week 4 game between the Patriots and the Kansas City Chiefs, NFL.com reported.
Newton tested positive for the coronavirus in early October, NBC News reports. "I never will question God's reasoning, just will always respond with 'YES LORD!!'" he said at the time of his diagnosis.
The Saints face a steeper fine of $500,000 for a "maskless locker room celebration" that followed their Week 9 win over the Tampa Bay Buccaneers, according to the league's site. The team, which was reported to also have held a maskless meeting, was also docked a seventh-round draft pick.
The Saints posted videos of the celebration on social media, which clued the league in to the policy violations.
Read the full story on NBCNews.com