Here are your Morning Puck Headlines: A glorious collection of news and views collected from the greatest blogosphere in sports and the few, the proud, the mainstream hockey media.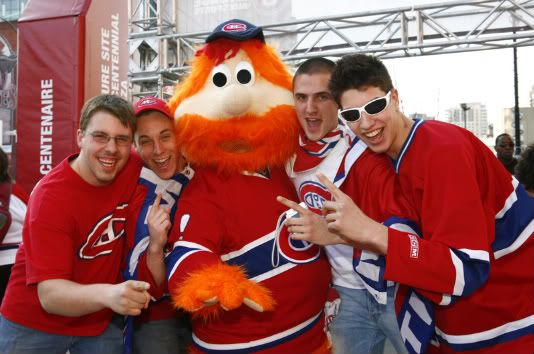 • Forget about all this All-Star Game hooey. It's all about breakfast with Youppi! for me. [Canadiens]
• "Say you root for a team that never has won the Stanley Cup. Say your team never has hosted a game in the Finals – unlike Holland's Red Wings, who go almost every year. How would you feel if your team finally made it, and you didn't get to have one game in your own building?" [Newsday]
• "I see too many kids going the wrong way," he said. "They don't have the respect or the know-how to treat the sport — even Sidney Crosby. You see him bitching, whining and crying. He's supposed to be the poster boy of our league and yet every time he gets hit, he's grimacing and complaining to the referees. Veterans teach the kids the right way to play." Jeremy Roenick on a variety of topics, including Sidney Crosb. [Mercury News via Empty Netters]
• Here are your viewing options for this weekend's AHL All-Star Classic from Worcester, Massachusetts. See Rory Fitzpatrick actually play in an All-Star game. [AHL]
Sports
Get today's sports news out of Los Angeles. Here's the latest on the Dodgers, Lakers, Angels, Kings, Galaxy, LAFC, USC, UCLA and more LA teams.
• It's the "Guns and Hoses charity hockey game between the Des Moines firefighters and police officers brought to you by the one and only, Iowa Chops. [Our Sports Central]
• Former NHL'ers Vincent Damphousse and Scott Thornton will be participating in this weekend's Canadian Pond Hockey Championships in Huntsville, Ontario. No word yet if the National Hockey League has considered the locale for a future Winter Classic game. [CBC] {YSB MORE}
• To help qualify for the NHL's revenue-sharing plan, the Nashville Predators are planning to purchase thousands of their own unsold tickets. [Tennessean]
• National Hockey League Players' Association representatives voted unanimously in favor or not reopening the collective bargaining agreement. The current agreement runs through the September 2011. [Sportsnet]
• Please welcome the latest NHL'er to join the Twitterverse, Patrik Elias of the New Jersey Devils. [Twitter]
• Chris Botta would like you know that past deals involved Zigmund Palffy, Roberto Luongo, and Pierre Turgeon are not the reason for the current state of the New York Islanders. [Point Blank]
• Los Angeles Kings All-Star Game representative Dustin Brown and YoungStar Drew Doughty will play at home next Thursday and then back in Montreal next Saturday. Rudy Kelly is not impressed. [Battle of Cali]
• Bruce Boudreau tries out for the next Subway commercial. [nhLOL]
• "At some point, even Charles Wang is going to say enough is enough." Gary Bettman talks with Scott Burnside on topics ranging from the Olympics, the NHL in Vegas, financial issues in Phoenix, and the arena situation with the New York Islanders. [ESPN]
• Finally, via DayWalk3r, here are TSN's top ten midseason shootout goals …
Copyright PuckD - Puck Daddy