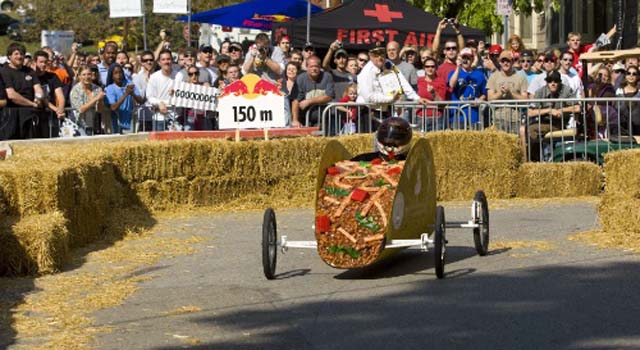 This Saturday, downtown LA will turn into a madhouse of Red Bull insanity, all in the name of soapbox glory.
Forty-two hand-made soapbox racecars will speed down Grand Avenue, take a sharp turn onto 5th Street and head for the finish line.
Although the need for speed is obviously priority No. 1, let's not discount style points. This year's cars include a giant nose, a bunk bed, a time-traveling DeLorean, Pac-Man and an Aztec temple.
The event is free to the public. Pits open at 11 a.m., opening ceremonies start at 12:30 p.m., and the race begins at 1 p.m.
Fans may want to get there early to get prime seats along 5th Street and Grand Avenue.