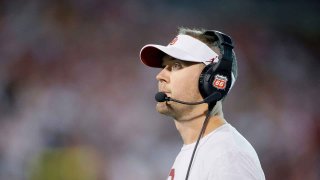 Lincoln Riley is leaving Oklahoma to become the next head coach at USC, the college confirmed on Sunday.
Riley should have an immediate impact on the Trojans incoming recruiting class and potential inspire current commits to the University of Oklahoma to perhaps switch to USC.
Riley is notorious for his recruiting abilities across the country, and now with the prestige of the University of Southern California, the backdrop of Los Angeles, and the network of alumni at his disposal, the Trojans next few recruiting classes should return to top-5 status like they were in the Pete Carroll era.
For more on what Riley's hiring means to USC on the recruiting trail, and statements from both the new Trojans' head coach himself and USC athletic director Mike Bohn, CLICK HERE.