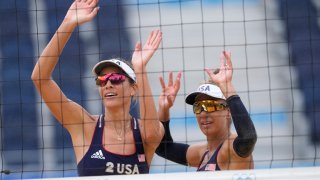 Americans April Ross and Alix Klineman were back in action Thursday at the Tokyo Olympics when they took on a team from the Netherlands.
Rain poured hard, and Team USA's second-seeded beach volleyball team of April Ross and Alix Klineman only slipped slightly in their three-set victory against Dutch duo Sanne Keizer and Madelein Meppelink, 20-22, 21-17, 15-5.
The two Southern Californians -- Ross is from Costa Mesa, Klineman is from Manhattan Beach -- defeated Spain 21-13, 21-16 on Tuesday morning for their second straight win. With one more game in the preliminaries left, they can do no worse than a three-way tie for first, which would be broken during a "lucky loser" matchup after the round robin.
Ross, a three-time Olympian who has already won silver and bronze, and first-timer Klineman will play the Dutch team of Sanne Keizer and Madelein Meppelink on Friday.
Ross and Klineman started the Olympics with a win over China's Xue Chen and Wang Xinxin in straight sets, 21-17, 21-19.
Ross won bronze in Rio and a silver at the London Olympics in 2012. She parted ways with beach volleyball icon Kerri Walsh Jennings after they won bronze in Rio.
She has been playing with Klineman, a first-time Olympian, for three years. The pair won silver at the 2019 World Championships.