What to Know
Team USA finished in the lead for the total medal count at the Tokyo Olympics, beating China's final gold medal count by one.
Sixty-three of Team USA's medals are from athletes with SoCal ties.
Winners include swimmers, softball players, track and field athletes, water polo players and more.
Team USA finished in the lead when it came to the total medal count at the end of the Tokyo Olympics, with 113 medals overall. The United States also won the most gold medals at a final count of 39, beating China's gold medal count by one.
Over 100 athletes with ties to Southern California participated in the Games this summer, including some of those medal-winners. Some train in the area, while others have called SoCal home for years.
This year's list of local Olympians rounds out the end of the games with 63 medals won, from 55 athletes with SoCal ties who made it to the Olympic podium.
This total number of medals won counts each athlete individually, even in team sports, and counts each medal won by those athletes separately.
---
Gold Medalists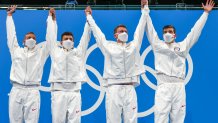 Men's 4x100m Freestyle Swimming Relay
Team USA won the gold in the men's freestyle swimming relay, and two of the team's members train at the Mission Viejo Nadadores Swim Club:
Zach Apple
This swimmer, who hails from Ohio, had a blistering 46.69 anchor leg in the relay, allowing the U.S. to touch more than a second ahead of Italy, which took silver.
Blake Pieroni
Pieroni, from Indiana, and his mid-47 leg in the middle of the race helped Team USA pull ahead of France.
Men's 4x100m Medley Swimming Relay
Team USA won gold again in the men's medley swimming relay, in a performance that broke a world record set 12 years ago.
Michael Andrew
Andrew's performance during the breaststroke leg of the race helped produce one of the fastest splits of the race. The Encinitas native worked alongside his teammates Ryan Murphy of Illinois and Caeleb Dressel of Florida, as well as Zach Apple.
Apple and Pieroni won gold once again. Apple swam the anchor freestyle leg during the gold-medal race, while Pieroni won a medal due to his role as an anchor during the preliminary heats.
Tom Shields
This native of Huntington Beach also won gold for his contributions during the preliminary heats, where he swam the butterfly leg of the race.
Men's Individual Golf
Team USA won its second-ever Olympic gold in golf on Sunday.
Xander Schauffele
This San Diego native who played for Long Beach State his freshman year of college before transferring to San Diego State University, won after shooting 4-under par in the final round, finishing the tournament 18-under.
He joins Charles Sands as the other of only two Americans to win Olympic gold in golf.
Sydney McLaughlin
The Playa Vista resident, who trains in Los Angeles, broke the world record for fastest time in the women's 400m hurdle event, winning the gold for Team USA. Her new record time of 51.46 shaved nearly a half second off her own world record from the U.S. Trials, which made her the first 400m hurdler to go under 52.
McLaughlin qualified for the 2016 Olympics in Rio de Janeiro at age 16, making her the youngest track and field Olympian at the time since 1976.
Women's 4x400m Relay
Sydney McLaughlin won a second gold medal in Tokyo, as part of the women's 4x400m relay team.
Allyson Felix, a Los Angeles native and another member of that team, became the most decorated U.S. Olympic track athlete of all time with her gold medal from the event.
Dalilah Muhammad, USC graduate, also won gold with the relay team, after winning silver in the 400m hurdle event.
Kendall Ellis, also of USC, also won gold for the relay event, for finishing first in the preliminary events.
Diana Taurasi
The native of Chino was part of the seventh straight gold-winning women's basketball team. The victory against Japan marked another win for Team USA, which has not lost an Olympic basketball game since 1992.
Jrue Holiday
This Los Angeles native and UCLA graduate was part of the gold-winning men's basketball team. The team beat France 87-82, to snag its fourth straight gold medal at the Olympics.
Women's Beach Volleyball
SoCal's beach volleyball A-Team went undefeated in Tokyo, winning the gold medal against Australia 21-15, 21-16 after an unbroken chain of other wins.
April Ross, Costa Mesa native and graduate of USC, won her third Olympic medal in the game.
Alix Klineman, Manhattan Beach resident and Ross's volleyball partner, won her first Olympic medal in the game, as a first-time Olympic athlete in Tokyo.
Women's Volleyball
The U.S. Women's Volleyball team won its first-ever gold medal in Tokyo, defeating Brazil 25-21, 25-20 and 25-14 to claim victory. That win came with help from three women with SoCal ties:
Kim Hill, an outside hitter and graduate of Pepperdine University who won bronze in Rio in 2016;
Kelsey Robinson, another outside hitter and a native of Manhattan Beach, and
Justine Wong-Orantes, libero from Cypress, California and first-time Olympian in Tokyo.
Men's 4x400m Relay
Team USA's men's relay team earned the first men's track gold medal in track and field at the Tokyo Olympics.
Michael Norman, Murrieta native and USC graduate, won gold while helping to hold off Botswana for the first three legs.
Rai Benjamin, the USC graduate who won silver in Tokyo's 400m hurdle event, crossed the finish line well ahead of the pack in the final leg, winning the gold.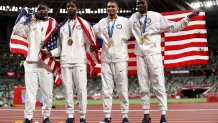 Women's Water Polo
Team USA's women's water polo team won its third consecutive gold medal, a three-peat streak kept alive since the tournament was introduced in 2000. The victory against Spain came from a team dominated by women from SoCal, including:
Alys Williams, a Huntington Beach native and UCLA graduate;
Amanda Longan, USC graduate from Moorpark;
Aria Fischer, who hails from Laguna Beach and is sister to;
Makenzie Fischer, Aria's older sister and another Laguna Beach Native
Ashleigh Johnson, a resident of Seal Beach;
Maddie Musselman, a UCLA graduate from Newport Beach;
Maddie Steffens, resident of Long Beach;
Paige Hauschild, USC graduate from Santa Barbara;
Rachel Fattal, Seal Beach native and UCLA graduate, and;
Stephania Haralabidis, USC graduate.
---
Silver Medalists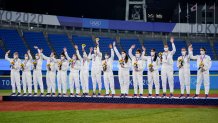 Team USA Softball
The Olympic softball team won silver after Japan beat the undefeated team 2-0 during the gold medal match.
Team USA won the 2018 Women's World Championship, and were favorites to win the tournament.
Going into the gold medal game, U.S. softball was undefeated, thanks in part to the skills of seven women from SoCal:
Ally Carda, UCLA grad from Elk Grove outside Sacramento;
Rachel Garcia, Palmdale native and UCLA graduate from the Class of 2021;
Dejah Mulipola, Garden Grove native and Pacifica High School grad;
Aubree Munroe, Brea native and Brea Olinda High School grad;
Madilyn "Bubba" Nickles, also a UCLA graduate from the Class of 2021;
Janie Reed, Placentia native, El Dorado High School grad and wife of Dodgers player Jake Reed, and;
Delaney Spaulding, Rancho Cucamonga native, Etiwanda High School grad and member of UCLA's Class of 2017.
Men's Baseball
Team USA's baseball team was shut out by host nation Japan in the gold-medal game, with the same score on the same field as the first game between the two countries eleven days earlier. Two players with ties to SoCal helped secure the silver medal:
Anthony Gose, native of Bellflower, graduate of Bellflower High School, and player for the Cleveland Guardians baseball team, and;
Tim Federowicz, player for the Oklahoma City Dodgers baseball team, a minor-league baseball team and affiliate of the LA Dodgers.
Jessica Springsteen
The daughter of famous rock stars Bruce Springsteen and Patti Scialifa, a Los Angeles native, helped the U.S. Equestrian team earn silver in the team jumping event.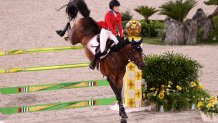 Sabine Shut-Kery
The equestrian dressage silver medalist is from Krefeld, Germany, but trains in Thousand Oaks, where she operates a boutique dressage training business.
Previously, Shut-Kery has competed internationally as a Grand Prix rider and trainer. In 2018, she earned a spot on the U.S. Nations Cup team, which won gold.
Her winning Tokyo performance came during her first-ever appearance in the Olympics.
Katie McLaughlin
The Dana Point native and graduate of Santa Margarita Catholic High School was the starting member of the team that won silver in the women's freestyle 4x200m swimming relay.
The silver-medal victory was during McLaughlin's first time in the Olympics. She finished fourth at this year's Olympic Trials, overcoming a neck injury that prevented her from competing in Rio de Janeiro in 2016.
Working with teammates Katie Ledecky, Allison Schmidt and Paige Madden, she was able to swim "lights out," according to Ledecky, to pull the team up to second place behind China.
Abbey Weitzeil
The Saugus native and graduate of Saugus High School and UC Berkeley won a silver medal with the rest of the women's 4x100m medley relay team.
Australian relay legend Cate Campbell chased her down, despite Team USA's .25 lead, but Weitzeil still managed to clinch the silver medal alongside teammates Regan Smith, Lydia Jacoby and Torri Huske.
Weitzeil also won a bronze medal, listed below, with her team during the women's 4x100m freestyle relay.
Rai Benjamin
In his Olympic debut in Tokyo, Benjamin's 400m men's hurdle race time of 46.17 broke the previous world record, and won him the silver medal. However, even after his Aug. 3 victory, Benjamin is not the current world record holder.
Benjamin's Norwegian competitor, Karsten Warholm, set the original 46.78 record one month ago. Though Benjamin's time in Tokyo beat that number, Warholm's staggeringly fast 45.94 race beat his own previous record and won him the gold, making for a historic race. Brazil's Alison dos Santos won bronze in the event.
Brittney Reese
Born in Inglewood, Reese won silver in the women's long jump in her fourth and final Olympic Games, with a jump of 6.97 on her third attempt.
The University of Mississippi graduate won silver in Rio, and gold in 2012 in London.
Germany's Malaika Mihambo won gold with a final jump of 7.00m, while Ese Brume of Nigeria claimed bronze.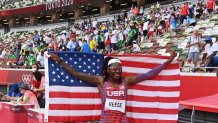 Dalilah Muhammad
This USC graduate from New York won silver during her second Olympic appearance, in the women's 400m hurdle race.
She came just behind gold medalist Sydney McLaughlin, who at the U.S. trials broke the time record Muhammad set in July 2019. In her first Olympic appearance in 2016 in Rio de Janeiro, Muhammad won gold.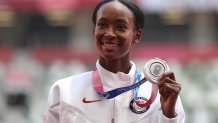 Joe Kovacs
The former assistant track and field coach for California State University, Northridge won silver in the men's shot put event, throwing 22.65m.
Kovacs joined teammate and world record holder Ryan Crouser, who won gold, and Tomas Walsh of New Zealand, who won bronze, on the podium. The medal-winning trio's Tokyo finish repeats the exact podium order from Rio, the first time in Olympic history that's happened in an individual event at consecutive Games.
English Gardner
This New Jersey native, who trains in Los Angeles, helped Team USA claim the silver medal in the women's 4x100m relay heats.
She earned her silver medal alongside Javianne Oliver, Teahna Daniels and Aleia Hobbs, who also competed in the heats, after teammates Gabby Thomas, Jenna Prandini and Teahna Daniels competed with Hobbs in the final relay event.
---
Bronze Medalists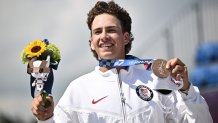 Jagger Eaton
The Arizona native, who trains in Southern California, won the bronze as a first-time Olympian during skateboarding's Olympic debut.
He won the medal even with a broken ankle, he said after the event.
"I tore two ligaments and gave myself two fractures," an injury he received after skating on an already torqued ankle during the world championships in Rome in the first week of June, to make sure he could qualify for the Olympic Games.
That unsurprising persistence comes from someone who started skating at age four and set a world record as the X-Games' youngest competitor at age 11.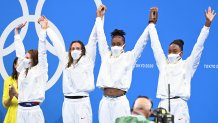 Abbey Weitzeil
The Saugus native and graduate of Saugus High School and UC Berkeley won medals in Rio de Janeiro in 2016 — one gold, in the 4x100m medley, and one silver, in the 4x100m freestyle.
She joined teammates Natalie Hinds, Simone Manuel and Erika Brown to earn Team USA the bronze, with a time of 3:32:81.
Australia won gold and set a new world record, while Canada won silver.
Annie Lazor
The Michigan native, who trained at the Mission Viejo Nadadores swim club, qualified for her first Olympics in Tokyo just weeks after her father died at age 61.
She earned her bronze for Team USA in the 200m breaststroke, just barely edging out the ROC's Evgenia Chikunova with a final time of 2:20.84.
Nick Itkin
This Los Angeles native and graduate of Palisades Charter High School helped win the bronze for Team USA during the men's team foil event, beating out Japan 45-31.
Though Itkin only competed up until the second leg of the quarterfinal, his efforts during his first Olympic appearance helped teammates Alexander Massialas, Race Imboden and Gerek Meinhardt, and garnered the second fencing medal for Team USA of the Tokyo Olympics.
Kendall Ellis
The USC graduate, who hails from Florida, won the bronze medal in the Track & Field 4x400m mixed relay event, alongside team members Trevor Stewart, Kaylin Whitney and Vernon Norwood.
The team finished with a time of 3:10.22, behind Poland's gold medal and the Dominican Republic's silver during the first-ever Olympic mixed relay race.
Sarah Robles
This San Jacinto native and graduate of San Jacinto High School won the bronze medal during the women's 87+kg weightlifting event, in her third Olympics to date.
The victory made Robles the first U.S. woman to win multiple weightlifting medals, after her bronze medal in Rio de Janeiro in 2016.
Brian Burrows
Burrows, a native of Fallbrook and first-time Olympian, won bronze during the mixed team trap shooting event.
The event was the first-ever Olympic mixed team trap competition, and he joined teammate Maddie Bernau in the bronze-medal victory.
Megan Jastrab
The Apple Valley native helped Team USA take the bronze during the women's cycling team pursuit event.
Jastrab, along with teammates Chloe Dygert, Jennifer Valente, Emma White and Lily Williams, defeated Canada in the gold medal race to make it to the podium.
US Women's Soccer Team
The team made it back to the Olympic podium in Tokyo with a bronze-medal win over Australia, a triumphant return after failing to get there in 2016 for the first time.
Two of the team's gold-medal veterans helped get the USWNT there, with Megan Rapinoe and Carli Lloyd each scoring two goals for a 4-3 win over Australia.
The victory came with help from four women with ties to SoCal:
Alex Morgan, a native of Diamond Bar and forward for the team;
Christen Press, another forward for the team who calls Palos Verdes home;
Sam Mewis, a UCLA grad playing as midfielder, and
Abby Dahlkemper, a defender who also graduated from UCLA.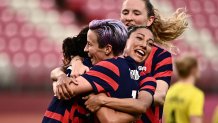 Helen Maroulis
This resident of Huntington Beach who hails from Maryland won the bronze medal for women's freestyle 57kg wrestling.
The victory came in her matchup against Mongolia's Khongorzul Boldsaikhan, where she won 11-0 by racking up 10 points on takedowns.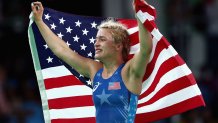 Allyson Felix
The Los Angeles native and USC graduate won bronze in the women's 400m event, propelling her towards her title as the most decorated U.S. Olympic track and field athlete of all time.
Tokyo marked Felix's fifth Olympics, after she appeared in Athens in 2004, Beijing in 2008, London in 2012 and Rio de Janeiro in 2016.