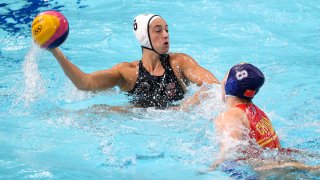 The U.S. Women's water polo team suffered its first loss of the Tokyo Olympics in a tightly contested game against Hungary, 10-9.
Hungary's Rebecca Parkes scored three goals including the game clincher with 45 seconds left to put her team up for good.
The back and forth affair started in the first quarter as Maddie Musselman opened up the scoring for Team USA, perfectly placing a ball in the back of the net to tie the game at 1-1 with 4:03 left in the first quarter. Maggie Steffens joined the scoring party with a cross cage skip to put the U.S. up 2-1 just two minutes later.
The score ended up tied 2-2 at the end of the first after Hungary got a tip-in in front of the net with .28 seconds left.
Hungary scored two quick goals to start the second before Rachel Fattal fired a laser from the outside to cut the deficit down to one.
At the end of the first half USA and Hungary were tied 5-5. Fattal scored another goal in the second to bring her total to 2 and Ashleigh Johnson made three saves.
After one goal from each team in the third quarter, Mackenzie Fischer scored on a power-play strike to put the U.S. up 7-6 and Musselman added another goal, her third of the match to give the team an 8-6 lead.
Tokyo Olympics
Watch all the action from the Tokyo Games Live on NBC
However, Hungary came storming back in the fourth with two goals in a row to tie it up at 8 with five minutes left in the game.
Melissa Seidemann stepped up late in the fourth, rattling the game as the shot clock expired to put the U.S. in front 9-8 with 2:28 left to play, but Hungary found an answer from the outside just 28 seconds later.
Johnson made another big save with one minute left but it was not enough as Parkes' game clincher sealed the victory for the Hungarians.
Johnson finished the game with nine saves on 19 shots.
While the loss is the U.S. women's first in Olympic play since 2008, the team had already clinched a spot in the quarterfinal heading into Tuesday night's game.
The U.S. will play the Russian Olympic Committee on Friday, July 30. and will play in the quarterfinal on Aug. 3.