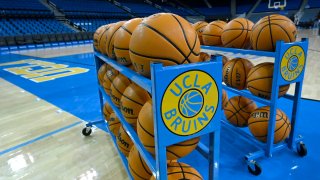 Both UCLA and USC men's basketball are again postponing scheduled games -- this time against Arizona and Arizona State -- due to COVID-19 protocols within the Bruins organization.
UCLA was slated to host Arizona on Dec. 30 and ASU on New Year's Day in LA..
USC's scheduled Dec. 30 game against ASU and Jan. 2 game against Arizona were also postponed for COVID-19 protocols within USC's program. The team paused all games on Dec. 19 due to cases within its organization.
Both schools said rescheduled dates will be announced after consultation with the Pac-12, which has been working to keep up with a wave of postponements and cancellations as the omicron variant races through programs.