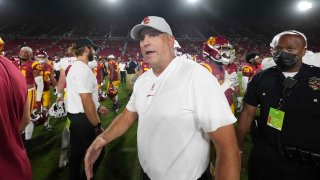 USC athletic director Mike Bohn announced Monday that Clay Helton will no longer be the head football coach of the USC Trojans. Bohn said the program needed a change in leadership following the Trojans' 42-28 loss to rival Stanford last week.
"As I committed to upon my arrival at USC, during the past two offseasons we provided every resource necessary for our football program to compete for championships." Bohn wrote in a press release on Twitter.
"The added resources carried significantly increased expectations for our team's performance, and it is already evident that, despite the enhancements, those expectations would not be met without a change in leadership."
USC opened the 2021 season with a 30-7 win over San Jose State, but couldn't overcome a slow start last Saturday, resulting in the loss to the Cardinal at L.A. Memorial Coliseum.
Helton began working for USC as a quarterbacks coach in 2010. In 2015 he was promoted to head coach and compiled a 46-28 record in seven-plus seasons. Helton led the Trojans to the Pac-12 Championship in a pandemic-shorted season last year, but USC was unable to defeat Oregon.
Assistant coach Donte Williams will serve as the interim head coach as Bohm begins a national search for the Trojans' next leader.