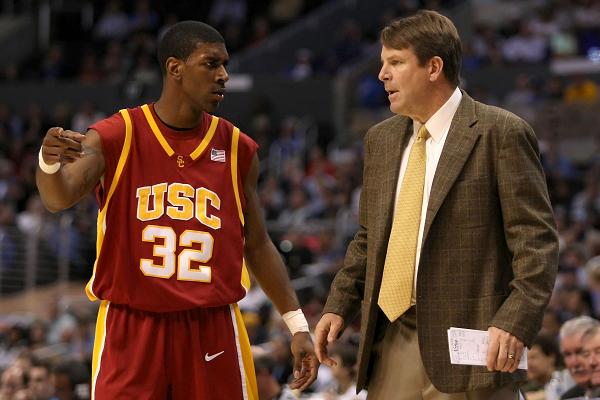 The University of Southern California announced that it would lower the boom on its men's basketball program by invoking stiff self-imposed sanctions for violating NCAA rules.
The sanctions are a result of a University investigation that found NCAA rules violations related to O.J. Mayo, who played for the USC's men's basketball team during the 2007-2008 season.
"USC takes allegations of NCAA rules violations very seriously. When allegations were made regarding our men's basketball program, we immediately began an investigation and worked closely with the NCAA and the Pac-10 in an attempt to ascertain the truth," said USC Athletic Director Mike Garrett. "When we've done something wrong, we have an obligation to do something about it and that is exactly what we are doing here."
The self-imposed sanctions for the men's basketball program include a one-year ban on post-season competition following the 2009-2010 regular season, including the Pac-10 Conference basketball tournament; a reduction of one scholarship for the 2009-2010 and 2010-2011 academic years; a reduction by one of the number of coaches permitted to engage in off-campus recruiting activities during the summer of 2010, and a reduction in the total number of recruiting days by twenty days (from 130 to 110) for the 2010-2011 academic year.
In addition, because of Mayo's involvement with Rodney Guillory, whom under NCAA rules became a USC booster due to his role in Mayo's recruitment, USC will vacate all wins during the 2007-2008 regular season, which was when Mayo competed while ineligible. USC will also return to the NCAA the money it received through the Pac-10 Conference for its participation in the 2008 NCAA Division I Men's Basketball Championship Tournament.
These self-imposed sanctions impact only the men's basketball program, and do not affect any other program.
With Mayo raking in the dough in the NBA (and Tim Floyd also), many will wonder if this self-imposed sanction is punishing the right people, or if this seemingly harsh response from Garrett is just a plea to the NCAA not to look deep into the football program.
Copyright AP - Associated Press