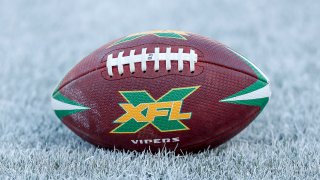 The Los Angeles Wildcats went scoreless on their final four possessions, including Nick Novak's second missed field goal attempt, in a 17-14 loss to the New York Guardians Saturday.
Novak missed a 44-yard attempt wide right with eight minutes, two seconds left in the fourth quarter, the third miss in five attempts for the 38-year-old who kicked for five NFL teams more than 10 seasons.
Novak had a 47-yard attempt blocked midway through the third quarter in East Rutherford, New Jersey, as the Wildcats dropped to 1-3.
Matthew McCrane's 47-yard field goal with 10:57 to play proved to be the game-winner. It came nine plays after Jamar Summers intercepted a pass by Josh Johnson at Guardians' 29-yard line and returned the ball 16 yards.
New York (2-2) extended the drive on Luis Perez's 12-yard pass to Colby Pearson on a third-and-11 play. Darius Victor rushed for 10 and 15 yards on the next two plays, advancing the ball to the Wildcats' 19-yard line.
Back-to-back sacks and a third-down incomplete pass prompted the field goal attempt.
The Wildcats tied the score, 14-14, with 4:37 remaining in the third quarter on Johnson's 42-yard touchdown pass to Saeed Blacknall and Johnson's pass to Jordan Smallwood for a 2-point conversion.
Sports
Get today's sports news out of Los Angeles. Here's the latest on the Dodgers, Lakers, Angels, Kings, Galaxy, LAFC, USC, UCLA and more LA teams.
The catch was the first of the season for Blacknall, who was inactive the previous two games and targeted four times but did not make a catch in the season-opening 37-17 loss to the Houston Roughnecks Feb. 8.
Blacknall did not catch another pass Saturday.
The Wildcats' first possession after tying the score ended with Summers' interception, the game's only turnover and Johnson's first interception in his three games. Novak's 44-yard missed field goal attempt came on the next possession.
The Wildcats then turned the ball over on downs when Blacknall was unable to secure Johnson's pass on the Guardians' 28-yard line on a fourth-and-3 play from the Wildcats' 46-yard line with 2:49 to play.
The Wildcats began their last possession on their own 8-yard line with 33 seconds left. They picked up two first downs, advancing to their own 39-yard line.
On the game's final play, Johnson completed a 17-yard pass to running back DuJuan Harris, who lateralled to Tre McBride. A series of subsequent laterals was rendered moot by an illegal blindside block penalty after the initial lateral.
The Wildcats outgained New York, 350 yards to 250, but trailed 19-17 in first downs and 33:09-26:51 in time of possession before a crowd announced at 12,116, 5,518 less than the crowd announced at 17,634 Feb. 9 for the Guardians other game at MetLife Stadium.
Johnson completed 25 of 40 passes for a season-high 330 yards and two touchdowns. Perez completed 18 of 26 passes for 150 yards and one touchdown.
McCrane opened the scoring with a 51-yard field goal with 5:51 remaining in the first quarter.
The Wildcats took a 6-3 lead on Johnson's 4-yard pass to Tre McBride with seven seconds left in the first quarter, concluding a 10-play, 68-yard drive that consumed 5:43. Johnson was five-for-five for 57 yards on the drive, including 25- and 20-yard completions to Smallwood.
New York tied the score, 6-6, with 8:15 to play in the first half on McCrane's 23-yard field goal.
The Guardians took a 14-6 lead 1:27 before halftime on Perez's 3-yard touchdown pass to Mekale McKay and a 2-point conversion run by Marquise Williams, who replaced Perez at quarterback for the conversion attempt.
The Wildcats played without receiver Nelson Spruce, who was inactive because of a knee injury suffered in last Sunday's 39-9 victory over the DC Defenders. Spruce led the XFL in receiving yards entering last week's play.
Martez Carter was inactive because of a hip injury. He ran for two touchdowns and caught passes for another score and a 2-point conversion against DC.
Perez started in place of Matt McGloin, who was sidelined because of an injury to his chest when he was sacked on his team's opening drive in last Sunday's 29-9 loss to the St. Louis BattleHawks.
McGloin missed the next series, then returned, playing the remainder of the first half, but sat out the second half.
Perez was the first player in Wildcats history when the former Los Angeles Rams practice squad quarterback was assigned to them before the start of the XFL draft Oct. 15.
Perez was traded to the Guardians Jan. 19 in exchange for quarterback Charles Kanoff, who started the Wildcats opener when Josh Johnson was sidelined because of a thigh injury. Kanoff suffered shoulder and head injuries in the opener and has not played since.
Copyright CNS - City News Service