NASA's InSight lander, expected to launch Saturday on a historic mission to Mars, is loaded with science instruments that will provide a better understanding of what's below the red planet's surface.
But before it begins exploring, the spacecraft will rocket into space during what could be a spectacular launch early Saturday at Vandenberg Air Force Base northwest of Santa Barbara. An Atlas V rocket will carry InSight into orbit, sending it on a months-long journey.
Here's what to know about Saturday's launch.
About the Launch
Location: Vandenberg AFB
It is the first interplanetary launch from the West Coast.
There is a two-hour long launch window, starting at 4:05 a.m. (the earliest they could launch) and ending at 6:05 a.m. (the latest they will launch)
Viewing the Launch
If we launch right at the start of the window, the launch will be visible to most in SoCal as a rapidly climbing light when looking west.
If we launch near the end of the window, we will likely get a spectacular launch with an illuminated contrail. Remember December's Falcon 9 launch?
Weather
53 degrees at the pad, northwest winds 5-15 mph
Some low clouds and fog might be possible at the start of the launch window, the Atlas V requires at least 4 mile visibility for launch
High clouds, could partially obstruct view. We're unsure how dense of a high cloud deck we will have, we will know more later this week
Launch Vehicle
The Atlas V vehicle is in the 401 configuration, which stands for 4 meter fairing, 0 solid rocket boosters, 1-engine centaur upper stage.
The launch pad at Vandenberg is SLC-3E (Space Launch Complex 3E)
It's the 15th Atlas V launch from Vandenberg
The will be the 78th Atlas V launch
The next Vandenberg launch on May 19 will be a Falcon 9 rocket with fiveIridium satellites, and two NASA GRACE follow-On satellites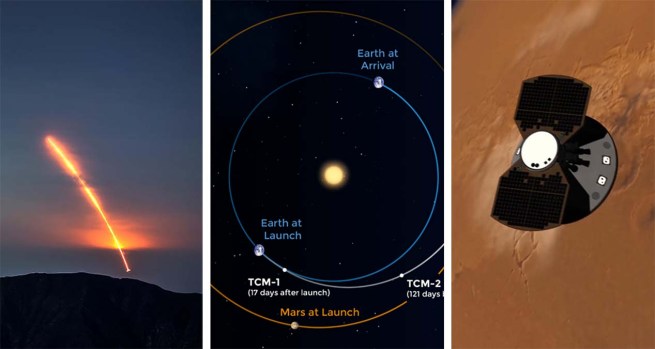 InSight Mission: See NASA's Robotic Geologist Bound for Mars