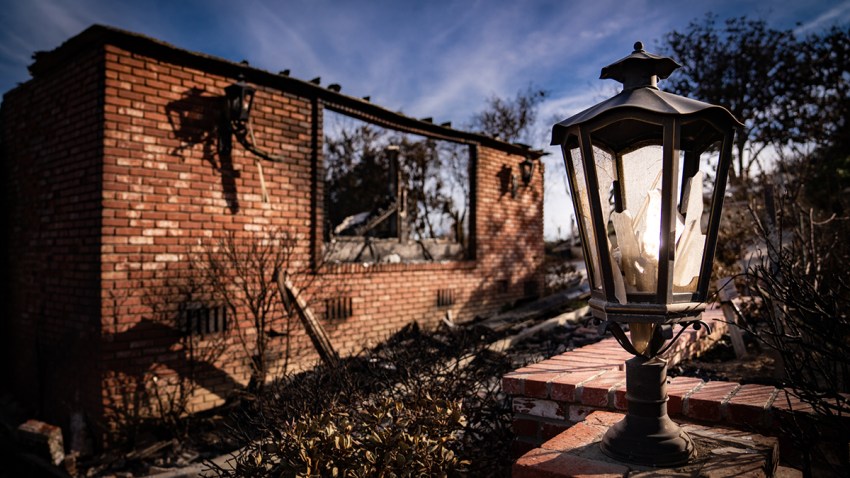 Rain fell across Southern California on Thanksgiving morning, but by afternoon the moisture had passed, and despite fears of mudslides or rockslides in the recent Woolsey Fire burn area, no significant problems were reported.
A flood advisory issued for much of Los Angeles County was allowed to expire at 3 a.m.
Before that, sandbags and sand were made available to all residents at Los Angeles County and Ventura County fire stations and officials in Los Angeles and Ventura counties were in an emergency response mode preparing for potential debris, mud and rock slides, especially in the Malibu area along Highway 1 and the canyon roads.
Downtown Los Angeles saw about a half-inch of rain Wednesday night and Thursday morning.
Firefighters increased containment of the Woolsey Fire to 100 percent Wednesday, helped by the favorable weather conditions. Since erupting Nov. 8 in Ventura County and quickly spreading into Los Angeles County, the fire charred 96,949 acres, destroyed 1,643 structures in both counties and damaged 364 others.
The announcement of full containment came a day earlier than the most recent estimate issued by the Unified Command.
About 215 firefighters remained assigned to the fire, officials said.
The death toll stands at three civilians, and three firefighters have been injured.
Officials have gradually allowed residents to go home as utilities are restored and areas deemed safe.
On Thanksgiving morning, Los Angeles County officials opened an area along Corral Canyon and the Newell neighborhood just north of Malibu city limits, east of Solstice Canyon Road and Roberts Road and west of Las Virgenes Road and Malibu Canyon Road.
Although most residents who had been under mandatory evacuations have been allowed to return, about 4,000 remained evacuated in Malibu and nearby unincorporated areas, officials said.
Natural gas service has been restored in areas deemed safe, including the Peter Strauss Ranch community, the Oak Forest Mobile Home Park, the Seminole Mobile Home Park, and the vicinity of Morning View Drive and Bonsall Drive in Malibu, according to the Southern California Gas Company.
Residents were urged not to try to restore their gas service but to contact SoCal Gas or certified contractors to do it. They also were cautioned to watch out for workers restoring services.
Malibu Creek State Park, Solstice Canyon, Upper Solstice Canyon, and Castro Crest will remain closed to all pedestrian and vehicle traffic indefinitely.
"Many known and unknown hazards exist following an intense fire," Deputy Armando Viera Jr. of the Sheriff's Information Bureau wrote in an advisory. "This includes fire weakened or dead trees that can fall without warning, burned out stumps creating holes under trails, damage to parking areas and roads, and damaged or destroyed structures."
"Crews remain diligent in providing public service to residents as they return to their homes," according to a Unified Command statement issued late Wednesday afternoon. "Structures destroyed and damaged have been validated by damage assessment teams."
The entire burn area has been assessed, officials said.
"Unified Command will prepare for potential rain and have a contingency plan for mud and debris flow," officials said.
Some road closures remained in effect in the Malibu and unincorporated county areas.
Disaster Assistance Centers were opened to help residents affected by the blaze. They will be closed Thanksgiving but reopen Friday and Saturday from 10 a.m. to 6 p.m. They are located at the former Malibu Courthouse at 23525 Civic Center Way, and at the Conrad L. Hilton Foundation, 30440 Agoura Road, in Agoura Hills.
Residents with proper photo ID can pickup their mail at the USPS Facility at 7101 S. Central Ave. in downtown Los Angeles between 10 a.m. and 6 p.m. on Friday.
Malibu schools were expected to remain closed at least through the Thanksgiving weekend. Officials of the Santa Monica-Malibu Unified School District said specialists will begin cleaning the schools so they are ready to reopen after the holiday.
Additional fire information for Los Angeles County can be found at www.lacounty.gov/woolseyfire. Malibu also has a website with updated fire information at www.malibucity.org/woolsey.ncop.
Copyright CNS - City News Service