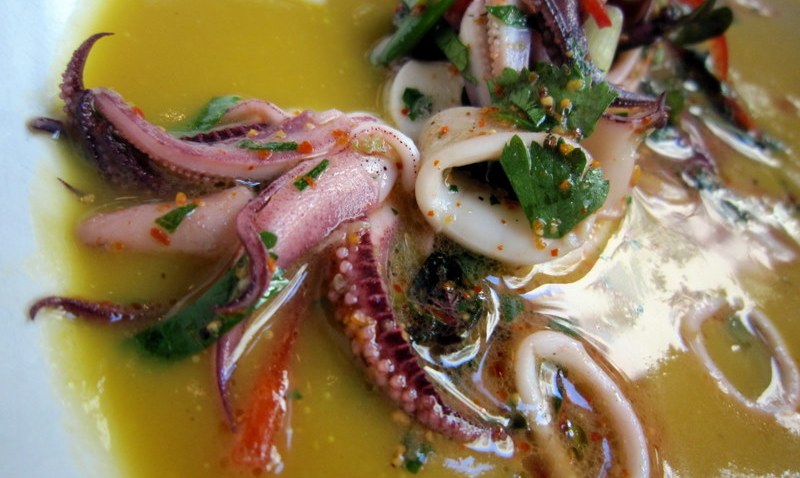 The Hungry Cat's Chef David Lentz shares this recipe for a first course on the DineLA menu:
Kabocha Squash Soup with Squid
3 large onions
1 cup sliced garlic
3/4 cup sliced ginger
zest of 3 oranges
1 cup brown sugar
5 large kabocha squash, peeled & seeded
2 Arbol Chile
1 bottle sherry
2.5 gallon chicken stock
Salt & Pepper, to taste
Sweat the onions, garlic, ginger, chili, and zest, seasoning as you go. Add the sugar and dissolve. Add the squash and cook for 5 minutes. Deglaze the pan with the sherry. Reduce until almost dry. Add the chicken stock and simmer for approximately 1 hour. Blend in blender, strain. Strain back into a pot. Note it may need to reduced a bit for thickness. Check seasoning.
Squid salad
3 oz cleaned squid (sliced in rings)
Shiso leaf
julienned mint
julienned cilantro
julienned fresno chili
toasted peanuts
togarashi
lime juice
white soy
sliced scallion
Sear squid quickly in a hot pan, non-stick pan. Toss squid in a bowl with the salad of remaining ingredients. Note: it is better to make the salad too big than too small!