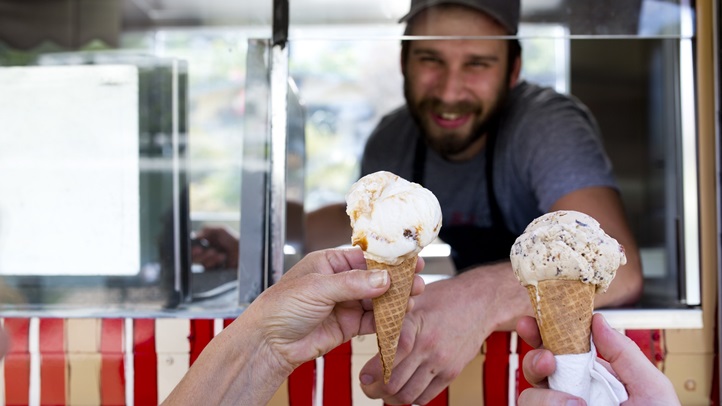 The turkey at the center of most Southern California holiday tables hasn't yet been replaced by a mega banana split or a row of frosted malts as of yet, but to live in the sunny region is to understand that, sometimes, summer weather has a way of calling during the turkeyiest week of the year.
It's looking like Thanksgiving itself will be properly Thanksgiving-y, temperature-wise, so dry-clean whatever turtleneck and plaid scarf you plan on donning. But the weekend before will feel a bit less frigid, with temperatures poking into the 80s.
Call it a perfect moment for a swanky scoop of ice cream, and call every moment the perfect moment to save cash and do something good for the community.
The Scene
What to do, where to go and what to see
Salt & Straw, the started-in-Portland, landed-on-Larchmont ice-creamery picked an ideal day to hand out its small-batch scoops, a happening that both spotlights a big announcement from the growing company and to help out Food Forward.
The reveal? The boutique sweet makers will open up a permanent shop in Studio City in 2016. That means flavors like Black Olive Brittle & Goat Cheese and Avocado & Strawberry Sherbet will now be gettable in the Valley, without a jaunt over the hill (though if you want to go Larchmont, of course, do; it's lovely).
To celebrate this grand ta-da!, Salt & Straw is handing out $1 scoops of several of its flavors -- think Honey Lavender, Sea Salt with Caramel Ribbons, and more -- from the Salt & Straw truck on Friday, Nov. 20 from 6 in the evening through 9 o'clock.
The address? Find it at 12180 Ventura Boulevard, which is where the shop will open next year.
The beneficiary? Each scoop sold helps Food Forward's Farmers Market Recovery Program, "which has worked with the Studio City Farmers Market for the last four years to distribute fresh produce to homeless shelters and food banks."
It's a sweet thing to do, but then again Salt & Straw chose Studio City as its second SoCal location due to the neighborhood's "family-oriented, small-town feel."
That small-town-ish-ness will be on display on Nov. 20 as people walk around eating ice cream. It's not a Thanksgiving harbinger -- the turkey at the table's center is safe -- but when fine weather rolls around for a few days, and a very fine cause and fun announcement, well, upon nice ice cream we shall feast.
Copyright FREEL - NBC Local Media