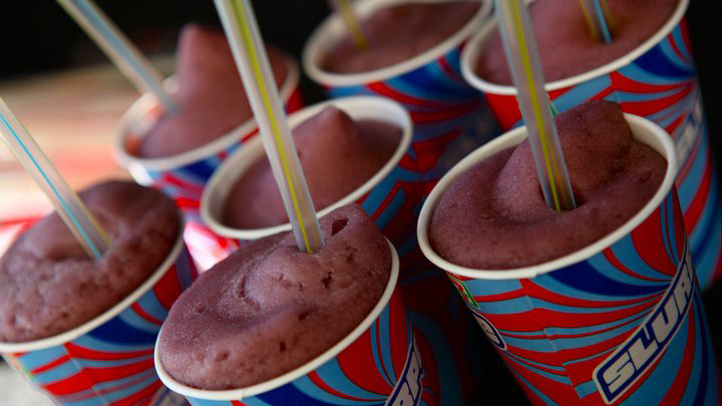 There's no official "Slurpee Day Eve" holiday, on July 10, but you can bet aficionados of a certain very cold, highly slushy, intensely flavored convenience store classic are readying their next-day schedules when the 10th of July rolls around.
Because July 11 — that's 7/11, if you are OK with writing dates a few different ways — is 7-Eleven Day, also known as Slurpee Day, at participating 7-Eleven stores. Make that free Slurpee Day, when a small version of the cherry-cola-watermelon-Sour Patch sip will be yours, yours, yours, no cash required.
If this is putting the recent BYOC -- "bring your own cup" -- Slurpee spectacle in your mind, well, it should; some truly wacky vessels showed up in the hands of Slurpee fans on April 11. Wacky and impressively oversized.
The Scene
What to do, where to go and what to see
Leave that giant hollow coconut or football helmet at home this time around; free Slurpee Day is about the smalls only.
Good? Doable? Yes, good and doable.
But a small drink'll do the trick, delivered a kapow of cherryness and coldness and that certain icy-crispness that seems to be the birthright of the Slurpee brand.
What else is there to know? Just this: The Saturday, July 11 event kicks off seven days of Slurpee-themed giveaways at 7-Elevens across this great land. Particular food and drinks shall be free, if you have the 7-Eleven app and get your 7-SELECT FREEBIE each day during 7Rewards Week. Details are here.
Important to know: There are certain hours involved for your freebie Slurpee on 7/11. You cannot have a free Slurpee at 8:14 in the morning, nor 9:53 at night. But you can get your Slurpee, for no dollar bills or coins, from 11 a.m. to 7 p.m. on Saturday, July 11.
And we're definitely not saying July 10 can't be Free Slurpee Day Eve. Do what you will, in anticipation, but a solid night's rest, ahead of July 11, is probably in order.
Copyright FREEL - NBC Local Media