If moxie is missing from your life, and your world feels a little light in both pluck and panache, taking some confident cues from the classics may be required.
For movies from the Golden Age of Hollywood often celebrated a certain sparkle, and gobs of get-up-and-go, and seeing a splashy star sashay across a glamorous set with oodles of oomph is not an unlikely occurrence.
Pluck, panache, and flicks that have gracefully weathered the decades are in the spotlight at Warner Bros. Studio, specifically those movies and movie stars that are featured in the Classics Made Here tour
The specialized outing puts the focus on some of the best-known films of yore, those timeless movies that were made around the studio's celebrated backlot and soundstages.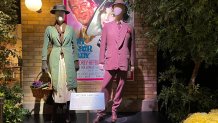 So is this themed tour similar to the Warner Bros. Studio Tour, which also cruises around movie sets while giving cinema-loving visitors plenty of fun film facts?
It is, but while the famous Studio Tour covers modern-day works, Classics Made Here is all about the actors, directors, screenplays, and settings that captured the fancies of our grandparents' and parents' generations.
And our own, too, of course.
If you count yourself as a "Casablanca" fan, or a maven of "My Fair Lady," you'll want to find your way to a tram, starting on April 28, 2022, when the tour returns to the studio after a hiatus.
Television is also included in the look-back look-around, which starts with the earliest days of the studio and concludes around the 1970s.
Traveling back in time to the starry era?
It takes around three hours. A visit to Stage 48: Script to Screen is part of the cinematic adventure, too, giving guests the chance to see a bevy of costumes worn by the biggest luminaries of the time, from Audrey Hepburn to Joan Crawford.
Stage 48 also has several interactive areas, a store, and the Central Perk Café (should you desire a pastry and pick-me-up after poking around the soundstages and backlots).
A SoCal resident ticket to the tour? It's $57, and other ticketing tiers are available.
So don your favorite tuxedo or glamor gown, if you're feeling dressy, and sashay, with confidence, over to the Warner Bros. Studio Tour site now to book your spot.
We may not be able to time-travel back to Old Hollywood, but its amazing artifacts and legendary locations still exist.
And ready to lead you those fabled places? A knowledgeable guide on the returning Classics Made Here tour.