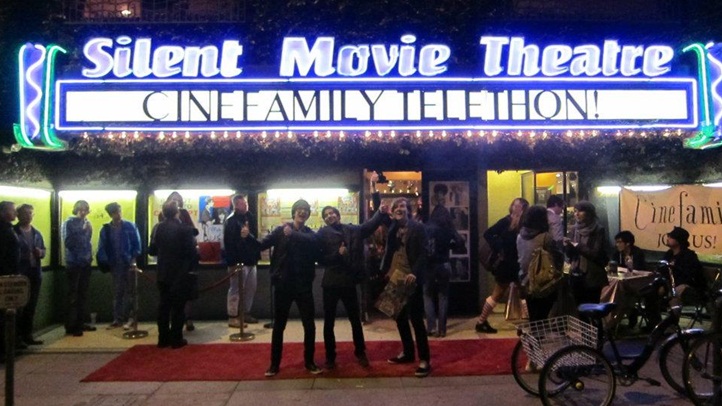 Film-loving groups have long called LA home, but our town has likely never seen the loosey-goosey, dead-serious likes of Cinefamily before.
The loosey-goosey part comes from Cinefamily's outlandish, you-pick-we-pick programs that cover every movie genre known to man, and a few made-up ones, too. The dead-serious part is that they know their stuff, from silents to works in pre-pre-production, and can talk smartly about what a gaffer does and '70s disco musicals and how animation influences live-action.
Simply put, Cinefamily, which has made the historic Silent Movie Theatre on Fairfax its base, is one of our town's, and possibly the planet's, most important film collectives. And to maintain their merry mission of bringing the best of moviedom to the good people of LA they throw an annual fundraiser called the Fantastic Elastic 24-Hour Holiday Telethon.
The Scene
What to do, where to go and what to see
It indeed happens over a full twenty-four hours -- it will roll this year from 1 p.m. on Saturday, Dec. 15 through 1 p.m. on Saturday, Dec. 16 -- and it summons a host of stars and lovers of offbeat cinema to talk, dress in costumes, imbibe, and engage in high-spirited tomfoolery.
One person set to show this year? Robert Downey, Jr. (word has it that Iron Man himself will be opening a time capsule in the theater). Other guests will include Jason Schwartzman, Nick Offerman, and John Hawkes.
You can watch online or, better yet, head for the Silent Movie Theatre to see the all-night, coffee-pounding, stubble-growing, tired-eyed, mic-wielding action.
The fundraiser will stir up some cash for a new projector and other upgrades the vintage venue is very much in need of. There's a Kickstarter campaign in conjunction with the telethon.
Cinefamily really does summon the support of the people who make movies. The fact that major stars'll show to support the one-screener is a testament to its vital role in our movie town's movie-loving scene. Here's hoping Cinefamily, and the Silent Movie Theatre, can keep the keepin' on keepin' on.
Copyright FREEL - NBC Local Media