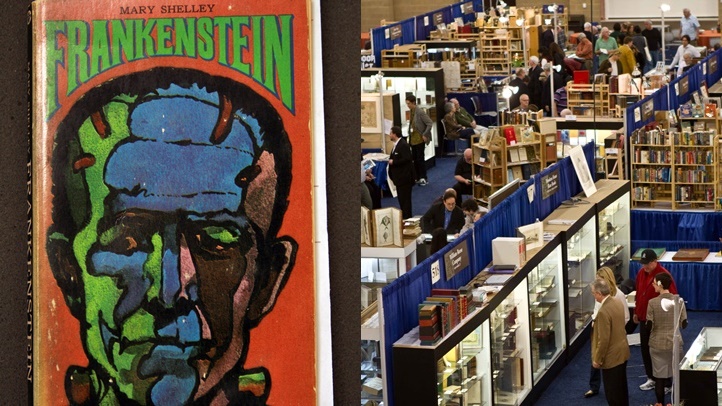 What to Know
Feb. 9-11, 2018
Pasadena Convention Center
$15 on Saturday or Sunday; $25 for a three-day pass
"Frankenstein; or, the Modern Prometheus" was once a story in Mary Shelley's mind, over two centuries ago, a frightening fantasy that brewed up a sizable set of questions about life, creation, and the terrifying responsibility that can occur when we unleash what we've made upon an unsuspecting world.
But Ms. Shelley's chilling novel grew from book to screen to cultural legend, and "Frankenstein" today, and its important themes, are as woven into our society as any other essential and epic story told in the last 200 years.
That's right, "Frankenstein" is now 200 years old, and ready to enter its third century, and the 51st California International Antiquarian Book Fair will give the masterful horrorwork its own scary yet study-worthy spotlight at the upcoming literary gathering.
The Scene
What to do, where to go and what to see
That gathering is called "the nation's largest rare book exhibition," and it is set to line up the gorgeous and priceless tomes at the Pasadena Convention Center from Friday, Feb. 9 through Sunday, Feb. 11.
The special "Frankenstein" exhibit found within the fair will include "...holdings from the Academy of Motion Picture Arts & Sciences, Occidental College Library's Ned Guymon Mystery and Detective Fiction Collection, University of California Riverside Library's Eaton Collection of Science Fiction & Fantasy, and Sara Karloff, the daughter of Boris Karloff."
There's so much more beyond the monster in the spotlight, though, for book buffs to explore. Some 200 booksellers will fill the fair, and items for sale can run as low as a couple of bucks.
Or, yes, run well into the "six figures," as rare books sometimes do.
A number of talks and seminars about collecting and literary topics are also on the schedule, should you want to intersperse your browsing with hearing experts muse on a variety of issues related to rare books. (Indeed, there's a talk on "Frankenstein.")
A ticket on Friday is $25, and it'll get you in to the fair over all three days (and benefit The Huntington Library, Art Collections, and Botanical Gardens). A Saturday ticket or Sunday ticket is $15, and you'll gain entry to The Huntington with it during the fair, so hurrah to that. Your Friday pass, too, also will give you Huntington entry.
The Huntington, of course, isn't all that far a drive from the Pasadena Convention Center, and it boasts a very impressive treasure trove of incredible documents and books from the past.
For everything Frankenstein, and all of your Californian International Book Fair needs, moan/shamble or just walk in an unFrankensteinian fashion in this direction now.
Copyright FREEL - NBC Local Media