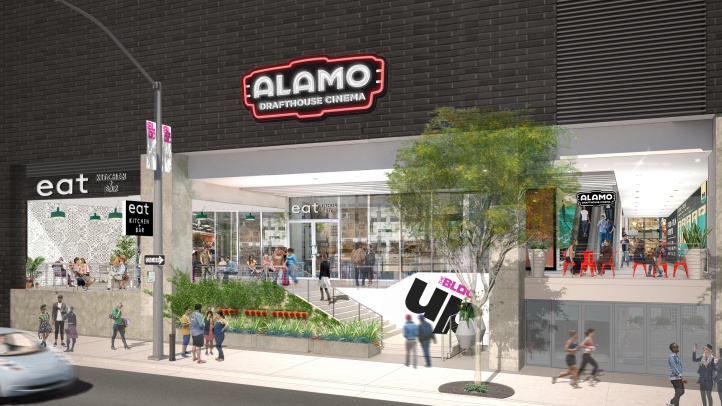 What to Know
The Bloc at 700 W. 7th Street
12 auditoriums, plus dining and a bar
Alamo Season Passes will be available
You can't spell "movie lover" without an m, an o, that all-important r, and the letter e, twice over.
What's that spell?
The Scene
What to do, where to go and what to see
Well, moree, if you want to get technical, but drop an extra e and you have "MORE," which is what film fans consistently and constantly and predictably want: more movies, more sneak peeks, more cult favorites, more hot trailers, more great snacks, more more.
Alamo Drafthouse Cinema has been delivering more on the more-themed front for over two decades, since it began showing art-house, everything-house, raise-the-roof movies in Austin in 1997.
That celluloid spirit spread to other cities — there've been movie tours and fresh locations, such as in San Francisco — and now, for real, as in, the wait is over, an Alamo Drafthouse Cinema is landing in Los Angeles.
It's been in the works for a number of years now, since an announcement in 2015, but word arrived from the company on June 19 that the 12-auditorium theater will soft-launch at The Bloc in downtown Los Angeles in early July.
As in, yep, July 2019.
What can more-seeking movie fans expect?
Super-cool: The laser projectors in each auditorium will be of the 4K variety, while one theater will include 35mm projection.
Look also for a "full bar and kitchen," which are Alamo Drafthouse Cinema staples, as well as, wait for it, an in-house video store.
A video store with free rentals, that is, which is very "more" in spirit. The joint's name? It's Video Vortex, a handle that just vibes with 1985-ness.
Look for Blu-rays and DVDs to line the shelves. No word if VHS tapes will make a showing, but a person can hope.
The Alamo Season Pass beta test, which gives "(m)embers of the subscription plan" the chance to catch a flick a day, will be part of the LA location. There's currently a waitlist, but you can sign up for that here.
When you're not ordering a brew or browings DVDs, what films can you expect to flicker upon the dozen silver screens?
Blockbusters and indies and classics and oodles of intriguing works have graced the other Alamo Drafthouse Cinema marquees.
And there are several of those: The company has "near 40 locations" beyond our fair shore.
But now, LA'll be in the exclusive loop, beginning in early July, when The Bloc welcomes the storied cinema, and gives movie fans the "more" that they're forever asking for more of, more often than not.
Copyright FREEL - NBC Local Media