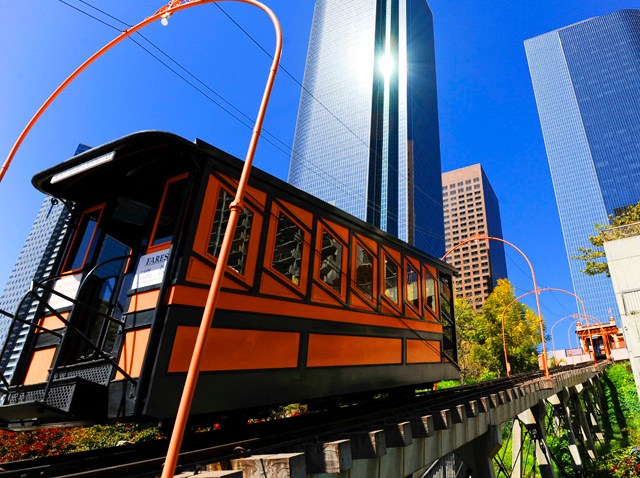 Angels Flight, Los Angeles' beloved little railroad that has been part of the neighborhood's history and made several appearances in Hollywood films, is reaching for the heavens again.
The colorful narrow-gauge railroad that carried Emma Stone and Ryan Gosling to the top of downtown L.A. in the movie "La La Land" reopened Thursday.
It's been closed since a 2013 derailment.
The Scene
What to do, where to go and what to see
Angels Flight opened on New Year's Eve 1901 and has appeared in several classic films, including "The Glenn Miller Story" (1954), "Kiss Me Deadly" (1955), "The Exiles" (1961) and "Act of Violence" (1949).
It served as a convenient, but slow, getaway vehicle in 1953's "Cry of the Hunted." Actor Vittorio Gassman, playing a convict, escapes from an officer, played by William Conrad, then runs out of the Third Street tunnel and up the Angels Flight railroad before clinging onto the back of the rail car.
Over the years it would ferry millions of riders from steep Bunker Hill's Victorian mansions to shopping districts below. It was closed in 1969 as the neighborhood underwent redevelopment. High-rise offices, museums, luxury apartments and hotels now stand where the mansions used to be.
After reopening in 1996, Angels Flight was beset by periodic mechanical problems, including one that caused a fatal 2001 crash. It's being reopened now following extensive safety improvements.
Copyright AP - Associated Press