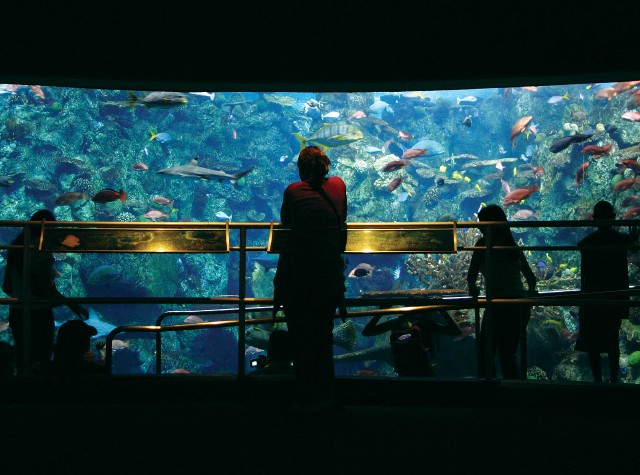 If a denizen of the ocean was called into the spotlight to dance, what could a viewer expect to see from the fin-laden dancer?
Would a crab snap his pincers to the rhythm of the song? Would a seahorse curl and uncurl her tail with each beat? And might a whale employ her blowhole to add further flair to the beautiful ballet she'd surely perform?
We wouldn't dare ask our aquatic pals to shimmy and shake, as they've got other important tasks to address in their day-to-day lives. But we landlubbers of the human assortment are free to shake and shimmy and snap our own pincers to the rhythm of the music at Night Dive, the every-so-often adults-only bash at the Aquarium of the Pacific.
The Scene
What to do, where to go and what to see
The name of the party, which will gurgle-glub-glub — that's Fish-ese for "happen" — suggests that a scuba suit might be in order, but the only dive that the 18-and-over crowd will take is straight onto the dance floor, where a lot of the action will take place.
Live bands and spin-ready DJs will be sending the flows through a place that knows its flows, of the wet kind, pretty darn well.
Food trucks and cocktails for sale will keep revelers fooded and beveraged at the Friday, Nov. 10 happening, while the wondrous watery galleries? They'll be open to visitors, so if there's a special grouper or jellyfish you know there that you want to hang with, you'll have the chance.
An art installation "...depicting the sunken coastal cities of the future" from mixed media artist William Kieffer, a lecture on bioluminescence, and getting your face adorned in glow paint are three other highlights of the night, with "lights" the operative word.
Cost? Seventeen dollars and ninety five cents. Do bring extra clams, which is human speak for "money," for the food trucks and any libations you wish to purchase.
Copyright FREEL - NBC Local Media