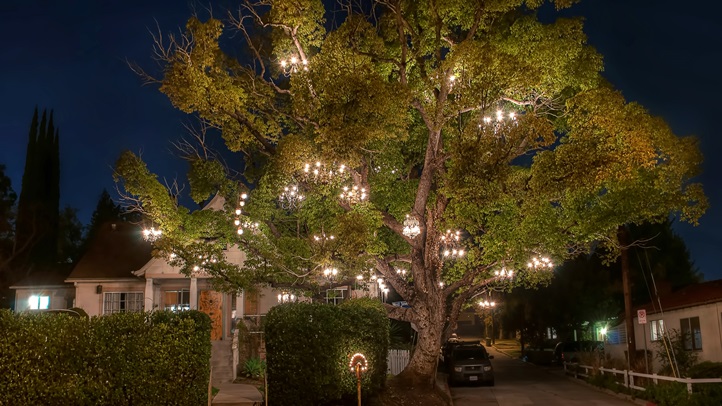 Asking an arbor aficionado -- that's a person who adores trees, shrubs, and greenery, of course -- to choose their favorite tree is an exercise best left unpursued. With so many lovely leafy beauties in the world, how could an arbor aficionado possibly land on the loveliest?
But there are particular individual trees that are the apples of many tree-gazing eyes, from the jacaranda down the street from you to the Douglas fir where you got engaged.
Noting a few of California's most famous trees, or most quirky, or most both, in honor of Arbor Day, seems like a kind way to consider those tall and branchy wonders that do so much on so many fronts, from oxygen production to housing birds to lending beauty to our wild world.
The Scene
What to do, where to go and what to see
Here are a few to love upon. What's on your leaf-covered list?
The Chandelier Tree, Silver Lake: When airbrush make-up artist Adam Tenenbaum strung up a few old-school chandeliers in a majestic sycamore on a residential block, magic ensued. Proposals, weddings, and other enchanting haps have gone down at the foot of the straight-out-of-a-fairytale tree, a true neighborhood landmark. When do the chandeliers begin to glow? Dusk-ish, usually. Best become a Facebook fan to follow this local legend's illuminations.
The Chandelier Tree, Leggett: If you've ever heard of the drive-through tree in Northern California, this is probably it. It's a kitschy bit of road culture, one that draws people and their cars -- smaller cars, let's note -- to this seen-on-postcards-for-decades icon. The moniker, by the by, comes from its chandelier-like branches, and its draw? Powerful. It's one of the reasons people journey to the redwoods, and getting to know the redwoods is a must. Is "must" too strong a word here? Absolutely not.
Venerable Coastal Oak, Descanso Gardens: The wild spread in La Cañada Flintridge boasts not just famous camellias and tulips but a 25-acre spread of old oaks, trees that have flourished since the 1800s. One among them stands wider-of-branch, the matriarch if you will, and once you wander its way, you'll be treestruck (which is like lovestruck, of course). The oak's majesty stays with you. You know the tree, Descanso fans. And is "majesty" too strong a word here? Nope. Never.
The Candelabra Tree, Trees of Mystery: Another NorCal wonder, this phenomenal legend appears to have "candles" -- thinner vertical limbs -- growing from a larger horizontal branch. All of the trees inside the roadside-charming Trees of Mystery are Arbor-Day-riffic, though (and worth seeing any day of the year).
Pines, Torrey and Ancient Bristlecone: We acknowledge the folly in such a limited list, but, like Dr. Seuss's outspoken Lorax, it is never a bad thing to speak for the trees. So let us love on the Torrey Pines, the twisty, coast-close wonders of La Jolla, which just happened to be the longtime home of one Theodor Geisel. And let us love on the Ancient Bristlecone Pines of Inyo County, which are, in fact, some of the oldest living things on the planet. Roll that over in your brain a few times.
True, we're citing groups of trees now, and not single specimens, but like a tree's branches grow wider over time, so does one's love of the Golden State's tree-pretty bounty. So happy Arbor Day, everyone. You don't have to hug your favorite tree, but maybe hug a tree that looks like it could use a little love.
Copyright FREEL - NBC Local Media