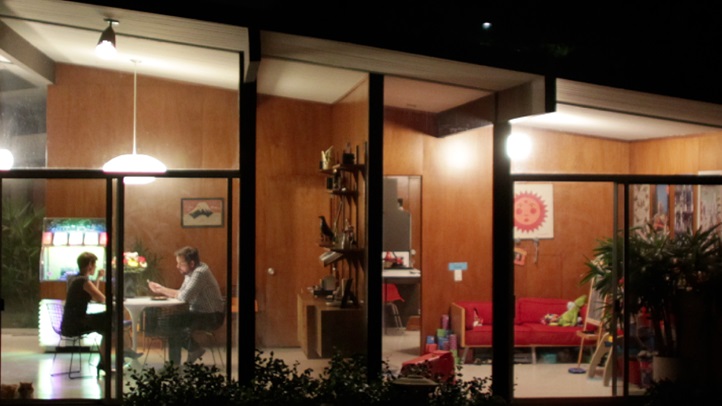 It's a thought anybody who has ever strolled down a sidewalk or driven down a street has had: What's life like in this neighborhood and in these homes?
Nope, it isn't just a nosey impulse; humans are a curious lot, particularly about other humans. Pair this longing to know with one of Southern California's most iconic neighborhoods -- the Joseph Eichler Balboa Highlands tract -- and you have the set-up for a single night of some rather amazing and unusual art.
Artist Nate Page will visit the Granada Hills area on Thursday, Sept. 19 with a number of videos awaiting projection in tow. What will come next? Mr. Page will project scenes of "homeowners moving about inside, as they would normally be seen through the translucent glass walls facing their backyards."
The Scene
What to do, where to go and what to see
Intriguing? Indeed.
If you know the famous mid-century homes, you know that the facades facing the street are low on glass and high on walls and flat spaces, while the backs of the homes feature huge windows that can stretch from floor to ceiling.
Those front spaces will effectively become screens for the night, or "windows" of a sort, providing an alternate view inside the house.
"(A) casual evening of self-directed exploration in the neighborhood" is the theme of the night. Not every Balboa Highlands home will become a brief video work of art, but "a few houses" will be part of the larger project.
Funny enough, as we imagine the lives within -- here a dog napping, there a man playing guitar -- Mr. Page's art event will also bring people out into the street, to wander and stroll and enjoy the evening and projections and conversation that will likely be inspired by it all.
The Machine Project is part of the idea-brimful happening.
Want to see what it is all about? The hours are from 8 to 11 p.m. on Sept. 19. Balboa Boulevard and Lisette Street is one suggested starting point for your walk, but Jimeno Avenue, Darla Avenue, and Nanette Street, near Balboa, should have things to see.
Copyright FREEL - NBC Local Media