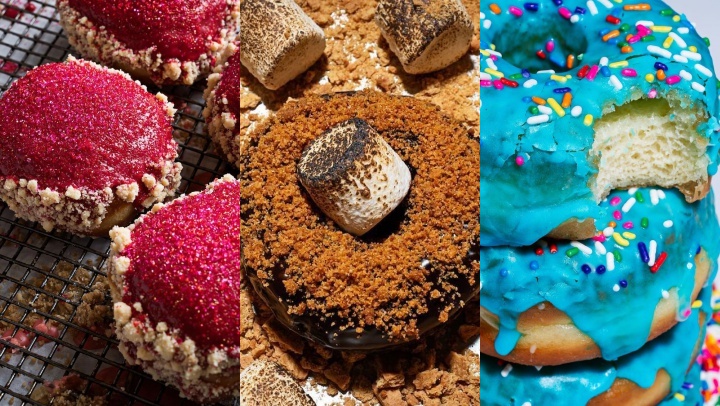 What to Know
Astro Doughnuts & Fried Chicken
DTLA and Santa Monica
Four "Summer Memories" flavors available throughout August 2019
There's no quibbling, hemming, hawing, mulling, or skipping the topic entirely: If it isn't exactly summer's swan song, August is the month when summery pleasures begin to draw to a bittersweet close.
For the air of back-to-school-a-tude is high, days are shorter, and Halloween decorations are haunting our stores. Which means it is time to find summer's spirit in concentrated form, quickly, efficiently, and, if possible, deliciously.
Astro Doughnuts & Fried Chicken can help on that front. Knowing that summer is evaporating as fast as dewdrops on a hot lawn, the sweeterie is launching a quartet of seasonal doughnuts, goodies that'll stick around all August long.
The Scene
What to do, where to go and what to see
And we do mean "seasonal," for each flavor has been selected for its quintessential summer character.
These savor-'em-slowly treats'll be available at the born-in-D.C. company's DTLA and Santa Monica shops.
The oh-so-now flavors? Prepare to chomp into Cherry Pie, Chocolate S'Mores, Blueberry Cotton Candy, and Lemonade Poppyseed.
Yes, the marshmallow atop the s'mores doughnut IS flame-torched, as it should be.
The Cherry Pie and Chocolate S'Mores doughnuts are four bucks each, while the Blueberry Cotton Candy and Lemonade Poppyseed are priced at $3.75 apiece.
But putting a price on capturing the final fleeting tastes of summertime? That's a bit harder to pin down.
Best do Astro in August, before summertime, and Summertime Doughnuts, are but treasured, and tasty, memories.
Copyright FREEL - NBC Local Media