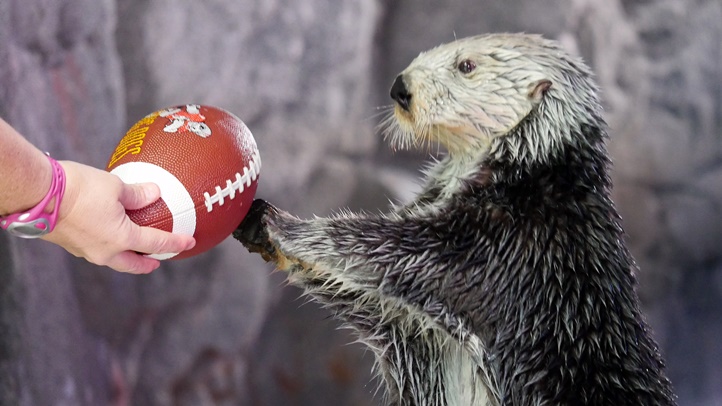 What to Know
Sunday, Feb. 4
Aquarium of the Pacific in Long Beach
Aquarium admission
If you've been to a number of sporting events that happen to have been located outside, you know that, from time to time, the field will become quite damp. Even soggy, and sometimes, if there's a downpour, the field will be soaking, muddy-cleats wet.
But you likely won't ever find a football field that's quite as sodden as the one where Otter Bowl IV is set to take place on the first Sunday of February 2018.
The name suggests that a team called the Otters might be involved, and you'd be right, and you'd also be right if you surmised that they're actually real otters, as in the ocean-dwelling, claw-rocking, abalone-loving mammals of the not-so-deep.
The Scene
What to do, where to go and what to see
Of course, Otter Bowl IV, being a bowl played by otters, doesn't occur on an actual traditional football field, but rather at the otters' home base inside the Aquarium of the Pacific in Long Beach.
And the otters' home base? There's a lot of H2O involved, because otters dearly love to take a dunk, over and over and over again, and when they're not diving and dunking they're probably twirling and somersaulting underwater.
Squeal. If we might.
Like the Super Bowl, Otter Bowl IV is scheduled for Sunday, Feb. 4, but tickets aren't too difficult to find. In fact, they're quite easy, for your aquarium admission is all you need to witness the exciting action.
A bonus? Admission after 3 p.m. is $14.95, and the otterly thrilling showdown is set to take the field, er, pool at 4 o'clock.
Action that is centered around football toys, and maybe a few football-shaped icy treats, because what's a sports game without a few cool-down treats for the players? And otters and ice are as tight a pairing as goals and goalposts.
Of course, there are thousands of other aquarium residents to visit while you're there, from the jellies to the crustacean contingent, though none will be engaging in football-themed pursuits, at least that we're aware of.
And, honestly, if jellies or crabs have their own games, with their own rules, how would we humans know?
We hope they do.
Be sure, if you're there for Otter Bowl IV, to swing by the June Keyes Penguin Habitat to say hello to Admiral Fancypants, the nobly adorable or adorably noble Magellanic Penguin, and ask him about his big week.
He just signed a steel beam, with his webbed feet, which might be described as quite the major life event for a penguin (or anyone, really).
The beam? It'll be a part of Pacific Visions, the new Aquarium of the Pacific wing due to open in the spring of 2019.
Copyright FREEL - NBC Local Media