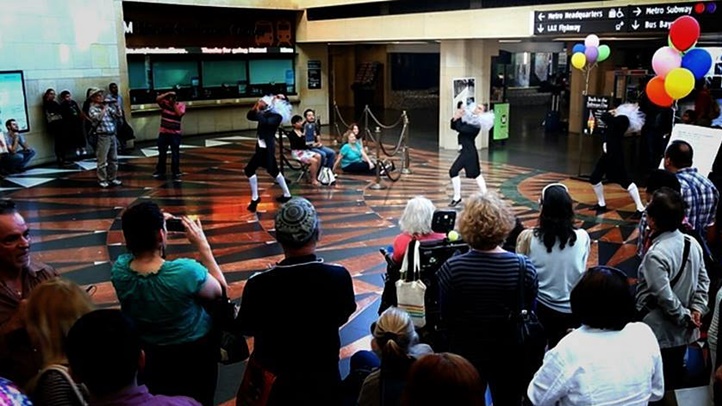 Tasked with summoning pomp?
Oodles of pomp? And ear-dazzling beauty and soul-stirring notes and a full-on birthday party commensurate with the grandeur of the artist who gave the world the mind-bendingly dramatic "Toccata and Fugue in D Minor"?
We mean... You're likely thinking beyond cakes and streamers. Even beyond a clown, too.
The Scene
What to do, where to go and what to see
And if you're one of the thousands of artists and supporters of Bach in the Subways, the worldwide event that honors the birthday of J.S. Bach, then you're thinking in big, ear-stirring, soul-dazzling style: You're thinking of staging a lot of free music played where a lot of people congregate.
That would be subways, yes, and in Los Angeles? Over 240 musicians will gather at Union Station to make music that'll last for the better part of a half day. Ten hours in fact, beginning at 9 a.m. on Saturday, March 24.
Adding to the art-tastic swirl, and something fresh for 2018? Check it out: There'll be live painting at 2 p.m. by Isaac Pelayo and a display of portraits capturing the composer all created by local artists.
This big Bach, we mean bach, er, we mean bash, isn't the only item on the Bach in the Subways schedule. There've been a few days of special events, starting on March 21. The 10-hour marathon, though, could be considered the sound-huge centerpiece.
A centerpiece full of masterpieces.
Some of the highlights listed by Union Station?
A noontime organ concert, a coffee cantata at 9 a.m., and a noir saxophone quartet at 3 o'clock. There are so many other good things, of the ear-soulful, soul-hearing, stir-and-dazzle department, you'll want to review all.
Or simply show up and enjoy.
March 31 will be the 333rd anniversary of J.S. Bach's birth, and millions of music lovers, for centuries, have been moved by his Goldberg Variations, concertos, suites, and yes, "Toccata and Fugue in D Minor," which surely will be on the 8-track of Top Ten Hits from the Last Millennium, whenever that is eventually released.
We're buying it, but only if it includes Bach's "Concerto for Two Violins." And, oh yes, the composer's "Air," we couldn't forget that. And then there's "Jesu, Joy of Man's Desiring," and "Inventions and Sinfonias," and...
Copyright FREEL - NBC Local Media