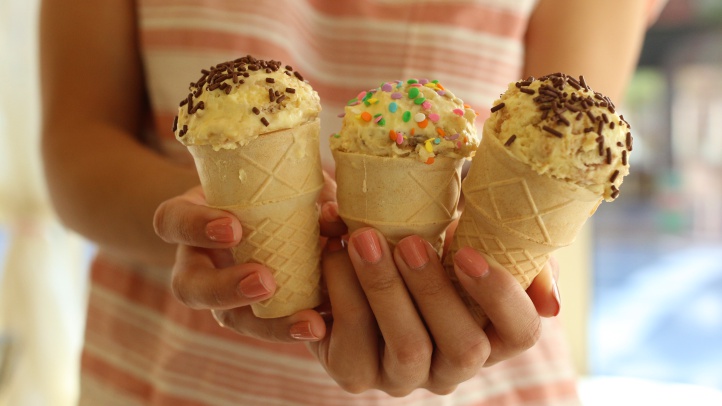 What to Know
Magnolia Bakery
Aug. 23-26, 2018
$5.25
Summer's on the downslope, it can't be denied, which means that the moment has arrived to cram in all of the summery delights and pursuits and gotta-tries and must-dos, before the season's curtain falls ahead of fall.
And if you need to up your general state of summer-a-tude, few things can beat something sweet served in a cone.
Has there been a scientific study released on such a noncontroversial theory? Um... probably not.
The Scene
What to do, where to go and what to see
Do people gravitate to cone-based foods in the summer, which are generally consumed outdoors, due to their delightfully drippy nature? Absolutely.
And Magnolia Bakery is absolutely upping the cone game, while understanding our wish to summer-up what remains of summer by consuming more lickable foods served in ready-to-hold, ready-to-munch dishes.
But wait for it: That's not ice cream in your cone, but banana pudding, which the started-in-NYC, found-here-on-West-Third treat shop is known for, in addition to its famous cupcakes.
That's right, we said "banana pudding," just a moment ago, served in wafer cones.
Can that even happen? Is there some pamphlet with further instructions? Is this some alternate amazing universe where people can just enjoy other things, beyond ice cream, in cone form?
Science surely would support the pudding + cone pair-up, for all of the happiness such an offbeat treat brings.
This offbeat treat is $5.25, and you can choose either confetti sprinkles or chocolate sprinkles to further add a summery sweetness to your confection.
And it is a photo-ready confection, for sure. In this day of towering treats, with cotton candy toppers and cookie-crusted rims, the Magnolia Bakery banana pudding cone adds a simple and pretty dimension to the huge arena of online dessert photography.
It isn't bananas, appearance-wise, but it is bananas, taste-wise. So there.
But don't dally, for summer is going, and banana pudding cones are only available at the pastry shop from Thursday, Aug. 23 through Sunday, Aug. 26.
One other mentionable bonus, for lovers of Boston Cream Pie and banana pudding? Magnolia Bakery's Boston Cream Pie banana pudding, typically available only in Boston, will be sold at all of the company's locations from Aug. 23 through 26.
Copyright FREEL - NBC Local Media