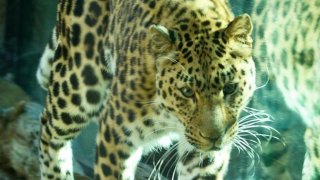 What to Know
Santa Barbara Zoo is at 500 Niños Drive in Santa Barbara
The zoo is reopening on Jan. 30, 2021 following a multi-week closure due to the pandemic
Guidelines are in place, including face coverings, limited capacity, and advance reservations
SAYING "HELLO" AGAIN... to a favorite animal? A number of visitors to a certain Central Coast animal park will be doing just that, starting on Saturday, Jan. 30. For the celebrated Santa Barbara Zoo will reopen that day, after observing a multi-week closure due to the pandemic. The state's stay-at-home order lifted on Jan. 25. and the destination announced it would reopen on the final Saturday of January, with a number of guidelines in place (face coverings are a must-wear and advance reservations are necessary). If you're still dreaming of that future date when you'll connect with the cute capybaras that call the zoo home, and you can again admire the Amur leopards in person, here's a kind and supportive way to spend that daydreamy time: Helping the zoo staffers to help the animals.
THE FOSTER FEEDER PROGRAM... is a great way for mavens of big cats, small rodents, and oodles of other critters to stay involved with the zoo. Who are the Foster Feeders and what do they do? Nope, you don't need to suit up and call upon Santa Barbara Zoo to hand-feed an Island Fox or Golden Pheasant their dinners. These caring give-backers are the people "... who take their favorite Zoo animals 'under their wing' and sponsor them for a year." And if you choose an animal to sponsor? You'll help the zoo cover that critter's cuisine (meaning, yes, the cost of feeding the animal will be "offset" by your contribution).
TO VIEW THE ANIMALS, and the details of the Foster Feeder program, begin here, lovers of the wild and wildlife-filled world. For details on the zoo's reopening? Keep an eye on its social media. As for what Monty is up to these days? The famous Santa Barbara Zoo penguin has his own children's book on the horizon.