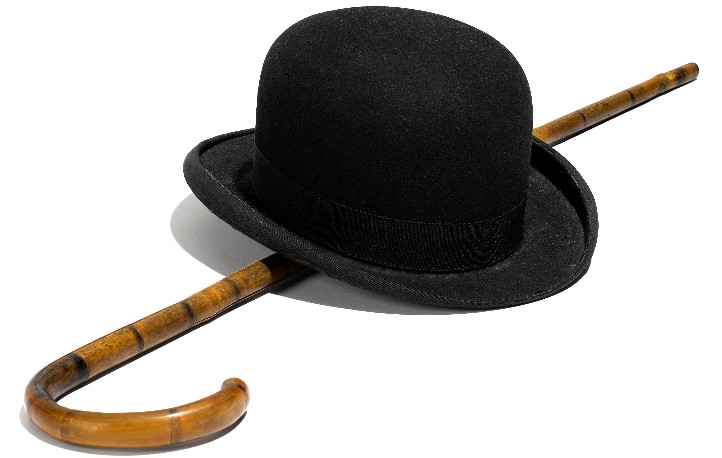 If you live in Los Angeles, chances are probably one in four that you own a screenwriting book. If you own a screenwriting book, chances are good you've read it. And if you've read it, chances are very good that you remember this tidbit: Always give your main character a really memorable prop.
We don't have to spin through too many iconographic films to prove this point: The Wicked Witch of the West's broom, Indiana Jones and his trusty whip, Frodo and The Ring, and Darth Vader's big tubular sword that glows and goes zzzshoosh when he swings it at various Jedi. What's that called again? It'll come to us.
But before all of those things came a certain bowler and a certain cane and the man who used him both. That was Charlie Chaplin, of course, and one of the hats he wore, plus a cane, will go up for auction at Bonhams on Sunset Boulevard on Sunday, Nov. 18.
The Scene
What to do, where to go and what to see
The pre-auction estimate is falling somewhere in the $40,000 to $60,000 range.
Several other Hollywood artifacts'll be up on the block, including "Casablanca" items, but bet The Little Tramp's gear will score the limelight. After all, that character was born in Tinseltown, the legend goes, and inspired countless other characters in their quest for sartorial immortality.
Sartorial immortality? There are a few ways to define that, but if you can draw the character's outline, or see the character in silhouette, and know who he is, then Hollywood icon status has been obtained. The Little Tramp definitely qualifies.
For all the Tinseltown goodies going to auction, explore the Bonhams site.
Follow NBCLA for the latest LA news, events and entertainment: iPhone/iPad App | Facebook; | Twitter; | Google+; | Instagram; | RSS; | Text Alerts | Email Alerts
Copyright FREEL - NBC Local Media