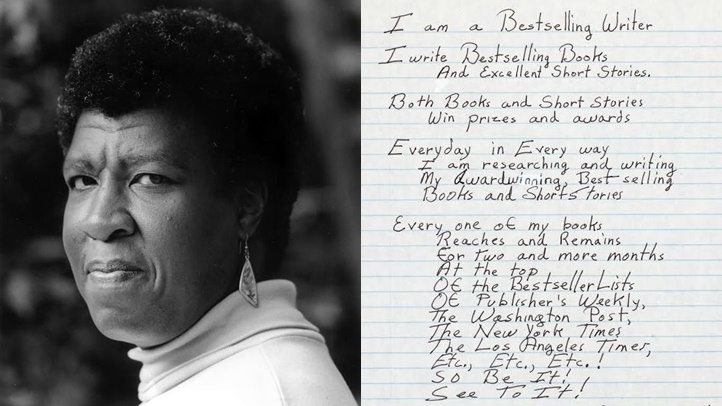 Book buffs regularly celebrate the birthdays of their favorite authors, typically by re-reading a few special short stories or a chapter of a much-returned-to novel.
If you're fortunate enough to live in or near that author's hometown, that adds another celebratory dimension to the occasion. And if a world-class cultural institution in that hometown happens to be hosting an exhibit devoted to the life and work of this writer? It's a lucky day, indeed.
One such auspicious day is June 22, 2017, the 70th anniversary of the birth of Octavia E. Butler, "the first science fiction writer to receive a prestigious MacArthur 'genius' award and the first African American woman to win widespread recognition writing in that genre."
The Scene
What to do, where to go and what to see
"Octavia E. Butler: Telling My Stories" is on now at The Huntington Library, Art Collections, and Botanical Gardens through Aug. 7, 2017.
On display? "(A)pproximately 100 items that reveal writer's early years and influences." Pages in Ms. Butler's own hand that serve as buoyantly worded motivational guides, you-can-do-it passages where she implored herself to keep writing and keep believing, are moving and meaningful artifacts.
Also moving: the first editions of her books in the exhibit, including 1979's acclaimed "Kindred," which follows "... an African American woman who travels back in time to the horrors of plantation life in pre-Civil War Maryland."
"'I wanted to reach people emotionally in a way that history tends not to,' Butler said about the book."
Photographs, too, help tell the author's life story, and documents revealing how she committed to digging deeper into social issues, and the political climate, to make her fantastical worlds grounded in modern times and essential to contemporary readers.
Ms. Butler, who was born in Pasadena in 1947, passed away in Washington State in 2006. As many authors do, she had thousands of papers in her possession, papers that now reside at The Huntington (over 8,000 items were bequeathed to the institution following the author's death).
See several of those important items, through Aug. 7, in the Library West Hall at the San Marino landmark.
Of course, fans may choose to visit the exhibit on June 22, Ms. Butler's 70th birthday, but any day through early August will help connect readers to one of our greatest writers, a Hugo Award- and Nebula Award-winning Pasadean who changed the course of science fiction, and in doing so helped to change the society in which she resided for the better.
Photograph of Octavia E. Butler, ca. 1998, by Miriam Berkley. The Huntington Library, Art Collections, and Botanical Gardens. © Miriam Berkeley www.miriamberkley.com
A page of Butler's self-motivational notes from 1988. The author often kept journals that included positive affirmation to help her visualize and meet her goals. Huntington Library, Art Collections, and Botanical Gardens. © Estate of Octavia E. Butler.
Copyright FREEL - NBC Local Media