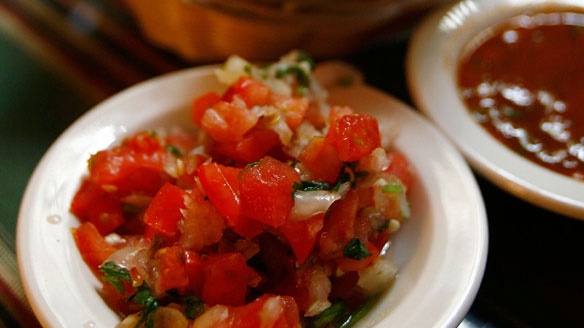 What to Know
July 7 and 8, 2018
Pershing Square
$5 ahead of time, $10 there
There's "chilling out" and "chile-ing out," and they mean completely different things, but there is a way to dabble in both if you happen to be A) at a fun weekend festival and B) there are saucers of salsa and pico de gallo and other chile-laden foodstuffs before you.
For A)? That's going to deliver on the "chill out" front, and B), of course, is all about the chile, and onions, and tomatoes, and every ingredient that makes salsa such a dippable, scoopable, mouth-on-fire-able condiment.
The Scene
What to do, where to go and what to see
So is salsa your jam? You're not alone.
In fact, you'll be among many fire-seeking friends at Pershing Square on Saturday, July 7 and Sunday, July 8. That's when the Salsa Festival returns to the DTLA space, bringing with it all the big-flavor'd sauces and dips you'll want to try.
You'll be chile-ing out, in other words, and probably chilling out, too, if you're having a super time.
Will you be chilling down, though?
Well... It is going to incredibly warm, temperature-wise, as in a three-digit-er, on Saturday, July 7, and though temperatures may drop a pinch on July 8, Southern California will still be firmly ensconced in a heat wave.
As ensconced a tortilla chip can get in an especially thick pico de gallo. Best advice? Stay hydrated, dress for the weather, and seek shade, if you attend. The festival, as of Friday, July 6, is still a go.
An advance admission is five bucks, buying your entry there is a tenner, and you'll probably-definitely want to purchase tasting tickets, too, once there.
And shall there be a Beer & Margarita Bar?
That's part of the chilling-down portion of the party for many 21-and-over revelers (just make sure you have your designated driver lined up).
If chile-ing out and chilling out are your twin to-dos come the summertime, and specifically July, hold tight, spice-seeking fiesta fans: Oxnard's large-scale Salsa Festival, which hails the dance as well as the food, will pepper-up the final weekend of the month.
That's July 28 and 29 in Downtown Oxnard.
So how many salsas can you try in the span of a single month? You may be on the caliente cusp of finding out.
Copyright FREEL - NBC Local Media