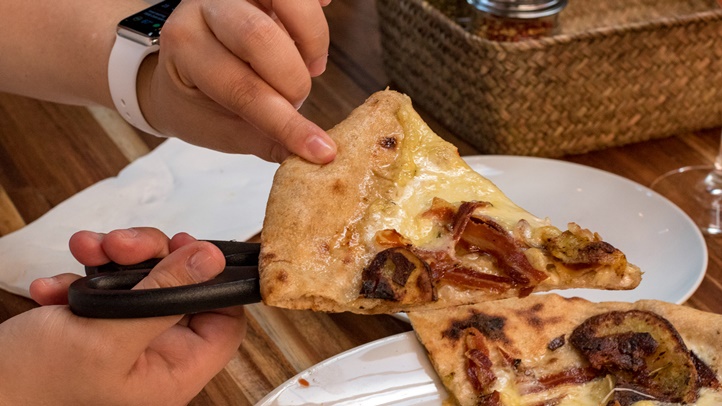 What to Know
Eagle Rock
Pizza, ice cream, and a bar
Love to cut your pie with scissors? They're provided
Nearly every person who eats out is pretty go-with-the-flow-y with how a restaurant wants to do things. Because a large part of dining out? It's the novelty, of seeing and tasting fresh techniques and savory systems.
But surely, in the past, when presented with a pizza pie, a large one meant to be shared by a table-packed with pizza-craving pie enthusiasts, many of us have wished for the implement we unashamedly use at home to divvy up the gooey circle: scissors.
The fact that Piencone, the brand-new and buzzed-over Eagle Rock restaurant, does actually give you scissors for your pizza speaks, if not volumes, then at least a menu's worth of words.
The Scene
What to do, where to go and what to see
It's a different sort of zazzy approach to eating out, one that combines three of the things that many eat-outers are seeking: a pizza shop, an ice cream parlor, and a bar.
Michelle and Corey Wilton of Eagle Rock's Four Café are behind Piencone Pizzeria, Creamery, and Pub, which debuted at 1958 Colorado Boulevard on April 4.
The pizza menu has an octet of choices, including Cauli Dreamin', which includes "cauliflower, bechamel, green olives, garlic, breadcrumbs, and grana padano. There are pizza-complementing sides, too, with olives, salads, and vegetables leading the appetizing way.
The dessert side of the venue includes six flavors, all seasonal, with Brown Butter Lavender and Vegan Mexican Hot Chocolate making creamy showings. There are two sorbets, too, if you're more of a sorbetist.
And at the bar? Craft beers, nice wines, and cocktails like La Maestra, a libation made with honey and lime jalapeño syrup, gin, and Aleppo will be on the available.
The name pays tribute to the two main foodstuffs served, but, yes, Piencone does use a pinecone for its symbol. It's an auspicious choice of imagery, especially since a pinecone can, given the right circumstances, inspire the start of a large, new tree.
Will there be more places to cut your pizza with scissors down the road, and spots to enjoy a slice, an ice cream, and an IPA, all in one sitting? A just-begun Piencone is ready to grow.
Copyright FREEL - NBC Local Media