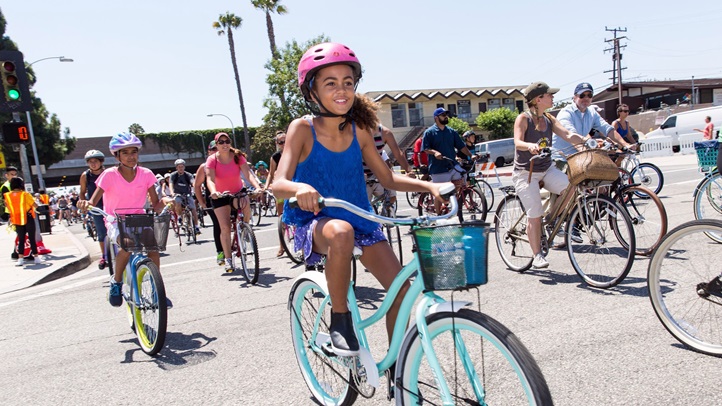 What to Know
Sunday, June 30
9 a.m. to 4 p.m.
Free
Residents who live in a particular place for a long time have a knack for repeating certain ideas and phrases, again and again, the sorts of statements that their neighbors may recognize (because those neighbors have been saying those same things, too).
And in LA?
We utter "oh, THAT place!" quite a bit, or at least many of us do. Because we're a city of cars, and intriguing places we see through our windshields have a way of flying by us, and then we sadly forget to go back and see what caught our fancy.
The Scene
What to do, where to go and what to see
CicLAvia, though, is alllll about making good on our THAT-placing.
For sure, the every-few-months event is about several miles of major thoroughfares closing to motorized traffic, and, most definitely, community spirit is involved, and enjoying some exercise, too, as you ride your bike down the middle of a wide boulevard.
That boulevard on Sunday, June 30?
It's a chunk of Venice Boulevard, oh yeah.
For CicLAvia will call upon the Pico Union area, and some of Mid-City, giving thousands of cyclists and roller skaters and joggers and walkers the chance to follow up on those "THAT places" that they've seen, from a car or bus window, in this vibrant area.
Of course, if you want to keep on rolling over the four-mile route, which also includes a bit of 7th and some of Washington, that's cool, too. You don't have to stop at shops or eateries along the way.
But do, if you can and want to, for that's part of the CicLAvia vibe: Loving upon our neighborhoods, showing some support, and getting to know the businesses we too often speed by.
It's an area that pretty much plum in the middle of our great megalopolis, or, nearly, so consider how many THAT places you've seen there over the years.
Time to go deeper, get some sunshine, ride your bike, see a friend. The hours?
We'll be Pico-Union-Mid-City-ing from 9 a.m. to 4 o'clock as the first half of the year winds down into its final hours.
Copyright FREEL - NBC Local Media