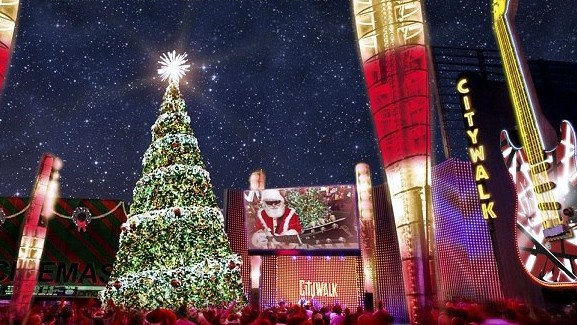 The Spirit of Christmas Future is one of the best known of all holiday-based characters, even though he's the most elusive and uncommunicative. (We get Scrooge feeling so frustrated with his cloaked companion.)
But the future of Christmas reigns in less obtuse and more sparkly ways. Universal CityWalk's Holidays celebration is a prime example of the yuletide of tomorrow. Nope, the theme park-close shopping destination isn't about setting up a fake fireplace with an electric log and a punch of watered down punch nearby. Rather, mega towers, big musical acts, multimedia light shows, and huge custom-built Christmas tree that is "choreographed in unison" with other nearby lights provide the high-wattage entertainment.
This is CityWalk though, yes? One of the brightest stretches in SoCal come nightfall, so naturally they'll be busting out the multimedia merriment and LED-y bulb-based extravaganza.
The Scene
What to do, where to go and what to see
The kick-off is on Tuesday, Nov. 20 -- the mayor and Councilman Tom LaBonge'll be in the house, or, um, tree-adjacent -- and recording artists set to roll in the Nov. 25 Hollywood Christmas Parade will appear.
Music and entertainment, though, will be a feature of the 5 Towers performing area -- you'll see 'em, for sure -- throughout December. Singer Cher Lloyd performs on Friday, Nov. 23.
A Santa's Village will be in the mix as well.
One has to like the holiday extremes; very low-lit monster mazes ruled Universal just a month ago, but, for its next holiday presentation, things are getting especially bright. Applauding the contrast, Universal CityWalk. It's almost like you're adjacent to an old Hollywood studio that knows set design and interesting presentation.
Oh, wait. You are.
Copyright FREEL - NBC Local Media