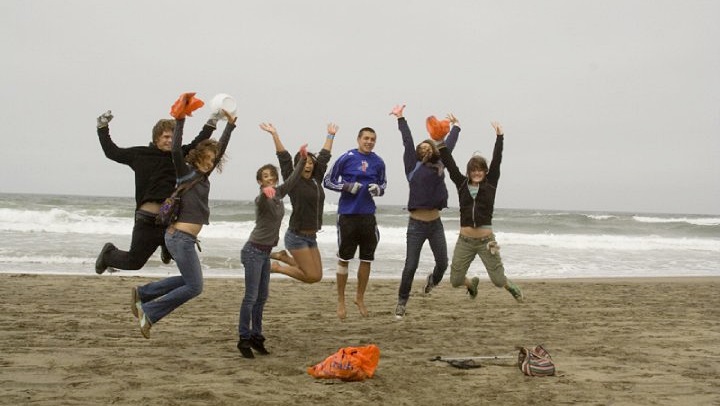 A stroll on the sand is pretty much at the top of every "10 Ways to De-Stress" list found on the internet, and every other roster that recommends paths to peace, ease, and letting go for awhile.
But then you see it: a drink lid, or a bag, or a bottle. Rather than re-stressing as you de-stress, you smartly pick it up and deposit it in the nearest appropriately marked receptacle, vowing to leave the beach a bit cleaner than you found it.
There's a way to engage in this good-hearted act, over and over, in a community-wide way: Coastal Cleanup Day in California, a just-before-autumn event that sends thousands of volunteers to area beaches, river banks, parks, and other water-adjacent places that need some TLC, pronto and seriously.
The Scene
What to do, where to go and what to see
It's "the world's largest volunteer event" for excellent reason: Our beaches and natural areas do dearly need some TLC after a busy summer of visitors, and, well, always.
As for the eye-popping litter haul that resulted after Coastal Cleanup Day 2016?
Inform your jaw it is about to drop: Some "...18.3 million pounds of trash and debris..." were collected over the course of "...only a few hours."
The 2017 date is Saturday, Sept. 16, and locating a meet-up point near you is a snap. Simply check out the map, then register, so the site captains know how many people to expect. An update: Checking with local ocean-loving groups in your area might also be a good path to finding an event. PADI, the Professional Association of Diving Instructors, will be sponsoring a cleanup in Huntington Beach.
LA County will be home to over 50 cleanup sites alone, so there's likely one in your neck o' the city. Cabrillo Beach, Gardena Willows Wetland Preserve, and LA River — Sunnynook Bridge are just three of the dozens to choose from.
And while there will be "supplies at every site," you'll want to show with a bucket and gloves, just to keep the effort humming (oh, and water, too, in a refillable bottle).
Reusable bags, too, are helpful.
If you've ever called upon the beach for a de-stress moment, consider how thousands of volunteers will help our beaches de-stress on Sept. 16, if de-stressing means removing tons of trash, trash that's certainly stressful for both beach and beach visitor alike.
Picking that debris up is helpful on all fronts. Join in, help out, and give our water-close areas a chance to exhale, like we ourselves so frequently do when we reach the water's edge.
Copyright FREEL - NBC Local Media