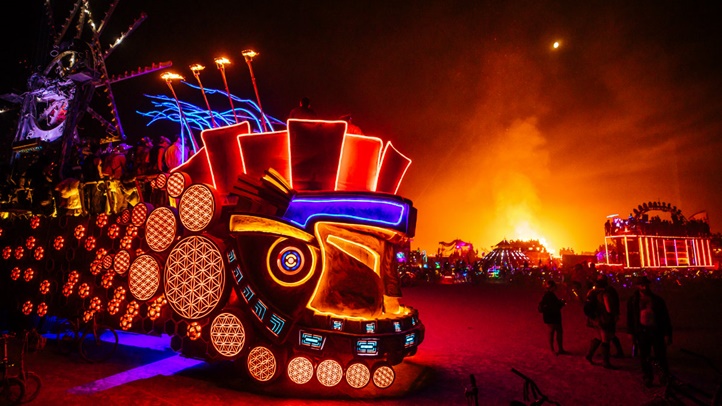 What to Know
Saturday, July 20
El Pueblo Historical Monument
$55
Driving in the direction of Nevada's Black Rock Desert?
Plenty of free-spirited, bohemian-blissful revelers do just that each August, for that's where Burning Man will take place in the days leading up to Labor Day Weekend.
The Scene
What to do, where to go and what to see
But some vehicles that are on the road for this annual express-your-art, off-the-grid-y gathering take rather longer to reach the eye-popper of a party.
For example, there are the famous art cars of Burning Man, the vivaciously realized, often over-sized vehicles that rock several ethereal and unusual exterior features, in addition to an engine and wheels and a carburetor.
There's no speeding for the late-August affair when it comes to these beauties; they need to take their time, and, if a city on the route is lucky, make a stop or two along the way.
One of the marvels of Burning Man's legendary art car line-up has to be the Mayan Warrior, by artist Pablo Gonzalez Vargas.
It made a showy splash with a quick DTLA stop in August 2018, and now it is set for its second Southern California appearance, on Saturday, July 20, at a special El Pueblo Historical Monument event.
The proceeds from ticket sales? They help to keep the Mayan Warrior rolling, and the creative team behind this on-the-go masterpiece funded, for there's little doubt that the creation and upkeep of these epic art cars take work, money, time, and love.
Music will fill the festivity, which begins at 4 o'clock, and "a few special surprise guests" will show.
A ticket is $55, plus a fee, and, for sure, they're going fast.
Can't make it to Black Rock Desert to view the Mayan Warrior against that stark and arid backdrop?
El Pueblo will make quite the marvelous setting for this marvelous piece. See it now, before it has to head north, where it will again be one of the glow-tastic stars of Burning Man.
Copyright FREEL - NBC Local Media