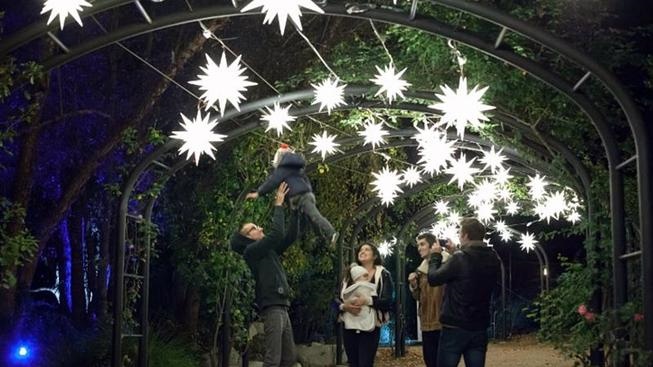 What to Know
Nov. 18 through Jan. 6
La Cañada Flintridge
$30
When there's a big event, running over multiple nights, that we know will be popular, and potentially sell out, we generally make a move to purchase a ticket, and then, on the night in question, arrive at the location in a timely manner.
And yet? Those traditional preparations, while totally sensible and recommended, don't feel totally complete when it comes to Enchanted: Forest of Light at Descanso Gardens in La Cañada Flintridge.
The Scene
What to do, where to go and what to see
Yes, a ticket is required, as is getting to the historic and nature-filled destination.
But Enchanted has proven over the last couple of years to be so, well, enchanting, that a fairy tale-loving person almost feels as though saying a sweet spell is required before entering, or the wearing of a magical amulet.
After all, you'll be entering a "forest" of sorts, and walking among the towering trees and beautiful shrubbery of the scenic spread.
But tulips will glow, and change colors, and "spinning polyhedral installations" from HYBYCOZO will play with shadow and light, and the Lightwave Lake show is indeed located at the property's pretty lake.
Look also for neon benches — they're new — and other cool displays that shimmer with all sorts of hues. That the displays fold neatly into their wilder surroundings is a further melding of art and nature and nighttime, a triumvirate that feels both powerful and memorable.
And even rare.
For when did you last step into an "Enchanted" forest, after the sun set, for a walk full of wondrous sights and bright beauty? Don that amulet and speak the sweet spell, for the well-liked Descanso Gardens event will open on Sunday, Nov. 18.
But don't let the spell be broken: The experience will glimmer away after Jan. 6, 2019.
Copyright FREEL - NBC Local Media