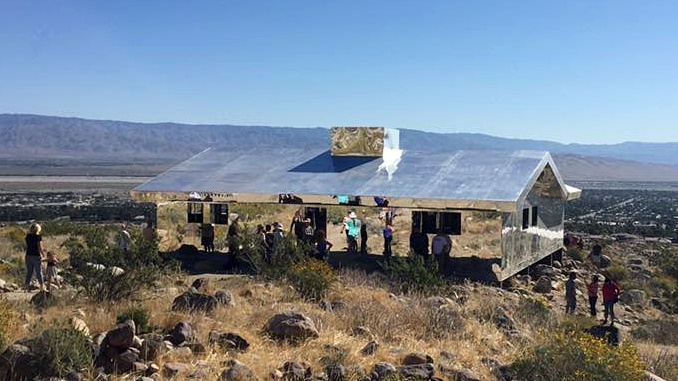 Maybe your friend's friend's friend went out to the Coachella Music & Arts Festival, or spent Easter in Palm Springs, and returned gushing over the much-praised "Desert X" art show, an installation-focused happening that included sizable pieces placed around and beyond the desert resort cities.
That word-of-mouth vibe can take a bit to heat up, for any event, but once it does? Other people want to experience what their impressed pals saw on vacation.
Alas, however, and darn: "Desert X" closed at the end of April, after a run that lasted just over two months.
The Scene
What to do, where to go and what to see
But here's some peachy news: While most of the pieces are being dismantled and removed, three do remain, and they're all free to view.
The mirror house, aka the house on the hill, is Doug Aitken's "Mirage," an artwork that proved so popular, and posted about, that impressive queues would be begin to form soon after its early morning opening.
Not only is the cool casa lined with looking glasses on the outside, but mirrors dominate the inside, too, giving the abode a surreal, fun-house-esque quality. And it's a quality you can connect with through the end of October 2017, the expected close date for "Mirage."
Also? Armando Lerma's large-scale mural "La Fiesta en Dieserto" remains on view in Coachella. Flowers, animals, trees, a woman in a pink frock, a table dominated by fruit, and a party atmosphere fill the wall-side gem with joy.
And over at the Palm Springs Art Museum? That tall, painted turbine blade out front is the work of Jeffrey Gibson. "ALIVE" is an exuberant, message-driven artwork, reminding us of the nowness of life and this fleeting moment in space and time.
If you've never seen a turbine blade up close, from ground-level, well, it is huge, as you might expect. The colossal size adds to the hugeness of Mr. Gibson's happy message.
Will the well-attended, much-Instagram'd art show return? Word has it, per The Desert Sun, that it could once again lay its surreal, mind-expanding stakes in the beautiful California desert as soon as 2019.
Copyright FREEL - NBC Local Media