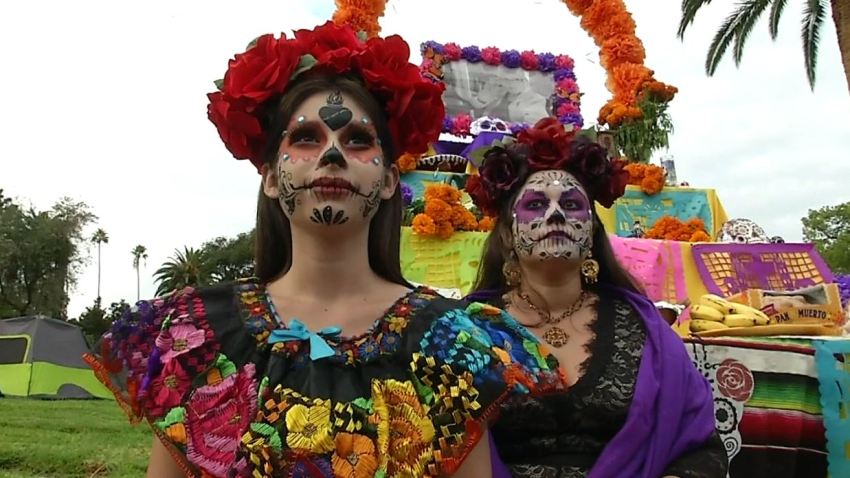 Halloween can be described in nearly countless ways by those who adore it, from a time to make merry (with a macabre twist) to a chance to dress outlandishly to a day where wall-to-wall candy consumption is, for many revelers, part of the sugary scene.
But what immediately follows the phantom-fun holiday is an occasion that grows quieter, and more reflective, though the moments to make merry (with a reverent tone) and dress up and enjoy sugar (via sugar skulls) continue to flower, like so many marigolds and mums.
It's Día de los Muertos, a venerable tradition in Mexico and beyond, one that fills the two days following October's end with altars and music and delicious foods and photographs of our loved ones who no longer walk among us.
The Scene
What to do, where to go and what to see
At least on this particular plane. So Day of the Dead's bridge between worlds is a meaningful one, and it is a bridge that will appear, at least in spirit, at Olvera Street on the evenings of Tuesday, Nov. 1 and Wednesday, Nov. 2.
What will you see at the historic thoroughfare if you call upon its shops and museums on All Saints' Day and All Souls' Day? Look for "beautifully decorated altars, art exhibits and entertainment," the sweet staples of the poignant celebration.
A "Pre-Columbian Novenario procession and blessings" will begin at 7 o'clock, should you want to bear witness to another moving element in an occasion built on memory, hope, and love.
Will those celebrating be in full calacas make-up, looking very much like the sugar skulls and tiny skeleton figures seen around the street? That is tradition, though flowers like marigolds and colorful clothing are also favorites in the finery and festooning departments.
The season of spirits continues, past All Hallows Eve, at Olvera Street through Nov. 2.
Copyright FREEL - NBC Local Media