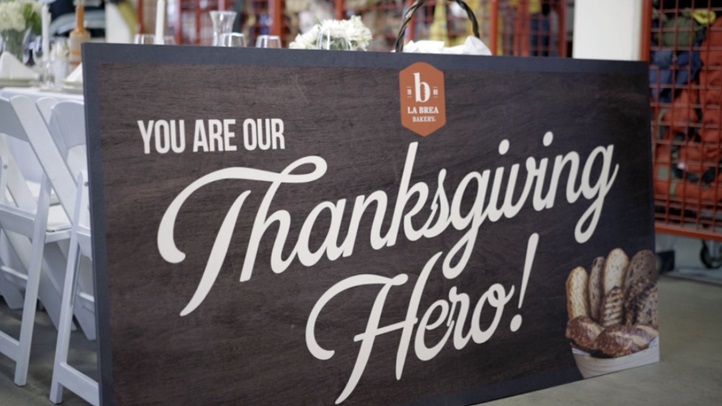 If you have a friend or loved one who is a nurse, or an EMT, or a firefighter, or who serves in one of the many community-serving professions that never, ever take a single hour off (holiday or not), you've probably already asked them if they're working on Thanksgiving.
And you thanked your loved one for doing so, when they replied in the affirmative. But there's another way to show your gratitude to all of those who will be on the phones and in their trucks and standing by to help on Thursday, Nov. 24: By nominating them to be a Thanksgiving Hero.
La Brea Bakery is the company behind the contest, which is heading into its second annual Thanksgiving go-around in 2016. "Entries will be collected until November 20th, and ultimately 10 national winners will be selected to receive a Thanksgiving feast, courtesy of La Brea Bakery, delivered to where they work on Thanksgiving Day to share with their co-workers."
The Scene
What to do, where to go and what to see
Hundreds of moving stories were shared in 2015 during the course of the campaign.
Have someone in mind? You'll want to ponder five words that best describe them — there's a field for that — and read over the rules. A big bonus? "(I)f your hero wins, you win a $500 gift card," says the bakery, which is nifty stuff.
Also nifty: You can do some holiday memory sharing on social media and possibly win a holiday loaf (read up on hashtagging and such before giving this a go).
'Tis the season for gratitude in all of its forms, but thanking those who go to work on the holiday seems like one of the first things we should do, both with those we know and those in the wider community. That they could win a full-on Thanksgiving dinner, one that their co-workers could enjoy, too, is the whipped cream on top of the pumpkin pie.
Contest details, entry links, the hashtag, gratitude-packed cheer? Here.
Copyright FREEL - NBC Local Media