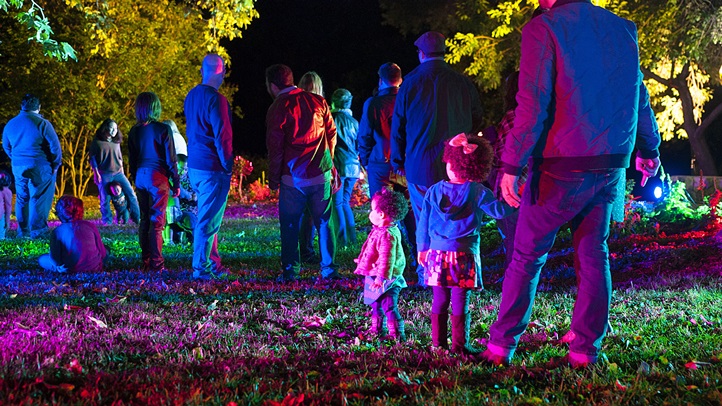 Say the words "holiday lighting display" and just about every listener will instantly conjure up exactly what those words mean, drawing from their own knowledge of what a holiday lighting display typically looks like.
For many people, it's an over-the-top, December-dazzling presentation, one that's all about strings of lights lining every inch of a house's exterior. Some people might also think of those lit-from-within reindeer and snowmen, the plastic assortment. And bright inflatables? They're part of many modern holiday lighting displays, too.
But a new sort of illuminated experience, one that was seasonal in nature, arrived on the Southern California scene at Descanso Gardens in La Cañada Flintridge in 2016. There were no plastic figures dotting the lawn, nor the sorts of lights you might find framing a garage door, and inflatables? Not a main part, or any part, of the after-sundown scene.
The Scene
What to do, where to go and what to see
It was Enchanted: Forest of Light, a spectacular that involves a caboodle of colorful lights trained on the oaks and shrubs of the historic gardens.
But some nicely lit tree limbs aren't the only thing visitors found around the mile-long walk through the leafy spread.
A line-up of "large-scale light displays, several of which are interactive..." invited guests to be in charge of the illumination and the sound of particular experiences.
Some of the lights danced and swirled, too, depending on where you were along the walk, and that mysterious garden of brightly glowing tulips? They were one of the social media hits of 2016.
If this nicely novel, deeply outdoorsy approach to holiday lighting intrigues you, and you're tempted by the nature-at-night aspect, know this: General admission tickets are now on sale for the event, which opens on Saturday, Nov. 18 and wraps up on Sunday, Jan. 7, 2018.
Ticket prices run from $28 to $30 for the popular happening.
Also good to note? There are a couple of add-on options, like dinner reservations at the on-site restaurant Maple or Dinner with Santa. Just read everything before making your selection, then get to wrapping your light-loving mind around a subtler, but still pow-packing, take on holidaytime incandescence.
Copyright FREEL - NBC Local Media